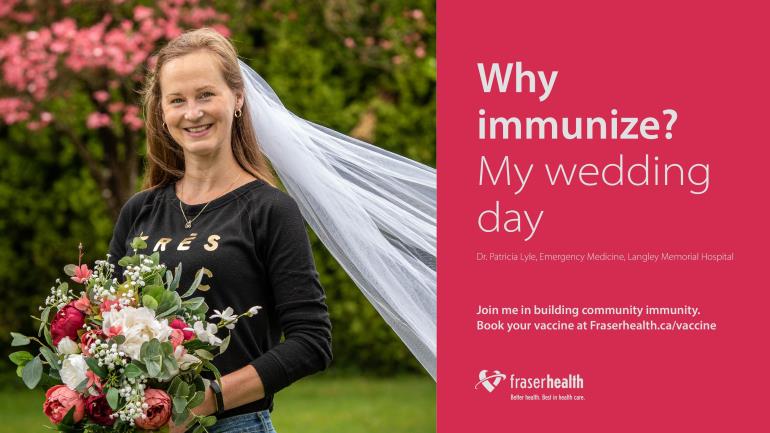 "I work with a lot of vulnerable people. When people come into the Emergency Department, clearly they're very sick so, even if I don't get sick myself, I could possibly transmit the virus to other people."
"Before we even got to the point of eligibility, my colleagues and I all really looked into it. We all 100-per-cent just jumped on board as soon as we were able to. Because we know, as we're on the frontline, that if we're down, there's nobody really to care for the people that are coming in.
I would love to go back and see my family. They all live in Ontario. I definitely want to celebrate my wedding with them and I want to also protect my own family that I come home to every day.
I love traveling — I've been to 47 countries — and I really look forward to being able to travel again one day. I also love doing local workshops and different classes, and just getting outside and being outdoors, whether that's playing sports or running.
Also, meeting up with friends. I can't tell you how many people we've touched base with and it's like, 'Oh we haven't hung out in months and months.' I'm looking forward to the day that we can all get together in the backyard and have a good barbecue.
A lot of the research that I was looking at was from countries that were a little bit more ahead of Canada, in terms of rolling out the vaccine, like the UK. There was loads of data and when you read the minimal side effects and look at the people coming in with COVID-19, there's really no comparison. Like, why wouldn't you? For the odd sore arm you might get and how sick my patients with COVID-19 really are? For me, there was no hesitancy in that regard."
Please champion #CommunityImmunity by urging all your family, friends, neighbours and networks to get registered, book and get their shot as soon as possible: gov.bc.ca/getvaccinated.