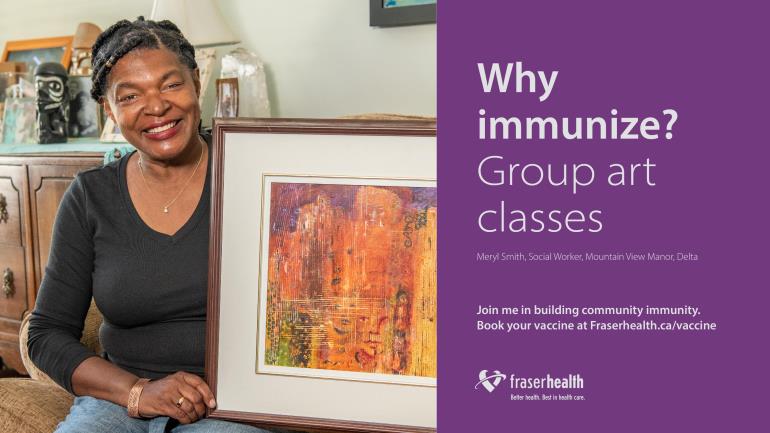 "I'm such a hugger. The fact that I can't hug family and friends…is painful. If we all get the vaccine, we can get on with normal life in the future."
"I've seen people who haven't been vaccinated, get sick. I feel it's a privilege to get the vaccine, to help us get back to living the life we were living prior to the pandemic.
I'm such a hugger. The fact that I can't hug my friends and family…is painful. I'm really connected to people, and I have the opportunity of being part of their journey. It's frustrating to work alongside people when I can't engage with them as I'm accustomed to; talking through masks and sitting six feet away. I believe in the power of therapeutic touch….engagement is so different since COVID-19.
I love learning new things – art classes, pottery, pickleball – and I love learning it in a collective. I have done virtual classes, but I don't get the same joy and challenge as I do in person. I miss the laughter and random conversations that happen when you're together in a group; I feel that empowers me and feeds my joy.
I had no hesitation towards getting the vaccine; it was a privilege. As a social worker, doing for the greater good has always been paramount in my mind. Following the mantra of Dr. Bonnie Henry, 'Be kind, be calm, be safe,' I feel that getting vaccinated is part of being safe – for you and everyone else."
Please champion #CommunityImmunity by urging all your family, friends, neighbours and networks to get registered, book and get their shot as soon as possible: gov.bc.ca/getvaccinated.