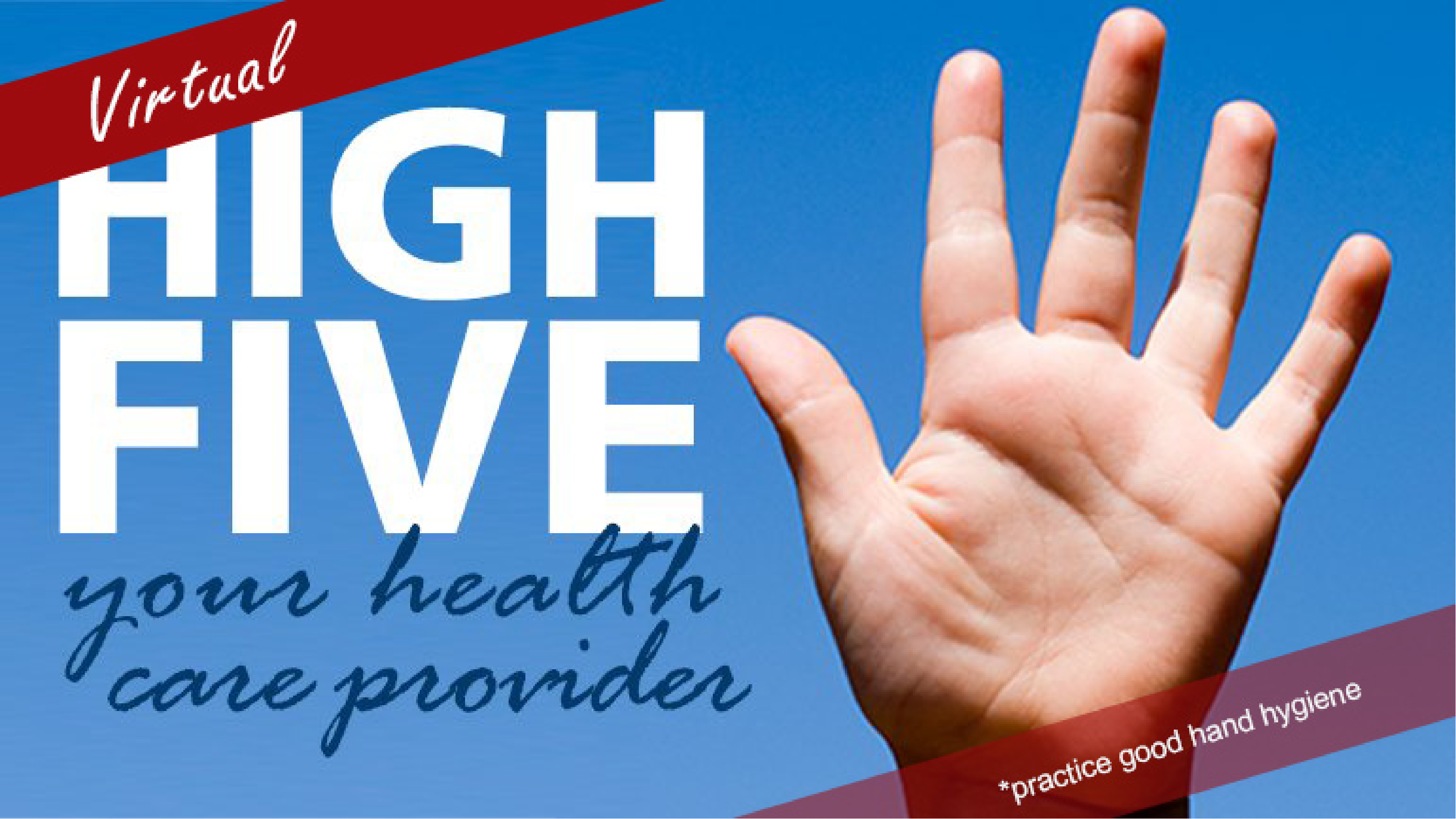 This week's high fives go to our amazing people in Abbotsford Regional, Chilliwack General, Eagle Ridge, Royal Columbian and Surrey Memorial Hospitals. High fives also go to Burnaby Public Health, Langley COVID-19 Immunization Clinic and the Surrey Diabetic Clinic.
Want to send a high five to your health care provider or Fraser Health team member? Leave a comment below or send us your story here.
---
For Abbotsford Regional Hospital
It was not a visit, just a call to check on my mother-in-law, but everyone I spoke to was so sweet and caring, no rushing, so polite. It means a lot. Stay safe and God bless you all!
---
For Chilliwack General Hospital
I experienced my first migraine a few weeks ago and went to the hospital when directed by my family doctor.
My emergency doctor was kind and listened to me as I tried to explain. The treatment he gave me made a world of difference.
---
Thank you to Dr. Lee and all of the amazing staff involved during my care today in the emergency. Even though it was busy, everyone was compassionate and friendly. Chilliwack is fortunate to have such fantastic medical professionals.
---
For Eagle Ridge Hospital and Royal Columbian Hospital
A huge shout out to the teams at Eagle Ridge and Royal Columbian Hospitals.
The team at Royal Columbian Hospital were phenomenal; Dr. MacKenzie, the nurses on my floor, Barb, Julyann and Sunny were all so caring. It made being there a great experience. Thank you all for your attentive care, humor and personalities. Awesome work everyone. Love you guys now!
---
For Royal Columbian Hospital
I just want to thank all of the medical staff at the hospital for treating me and I'm now on my road to recovery thank you for all your help.
High five!
---
For Surrey Memorial Hospital
I would like to thank every one who took good care of my baby girl and me during my stay at the hospital.
All the staff were amazing and went beyond to provide us with good care, answer questions and follow up after discharge as well. Thanks once again.
---
On two separate occasions over the last few months with the emergency department at Surrey Memorial Hospital, once for my father and once for my toddler, we have received follow-up phone calls from the compassionate physicians. We are so grateful for them, going beyond their call of duty, to ensure my family members were well and healthy! Thank you so kindly.
---
For Burnaby Public Health
Kathleen answered when I placed a call to book immunizations for my children and she was so nice and helpful. She booked my appointment and actually made my day. I am grateful for her and for Fraser Health. Amazing.
---
For Langley COVID-19 Immunization Clinic
I had my vaccine on Saturday at the Langley [COVID-19 immunization clinic]. I really appreciate it being a drive through. I felt very safe. I was a little nervous about all the lanes but had very clear directions every step of the way. The staff were all very pleasant and friendly. Thank you!
---
For Surrey Diabetic Clinic
Jill at the Diabetic Clinic is my hero!
Bless her and all those who have helped change my life. No words in the English dictionary or no synonym in the thesaurus can express what she has done for me. Such individuals are precious and should be given the highest accolades in the land.
---
For Fraser Health