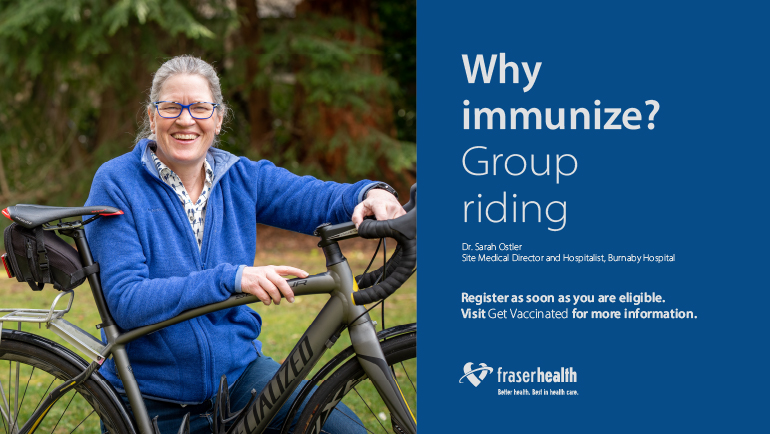 "To protect my family and friends, and to protect the people who've entrusted me with taking care of them, my patients. Those are the two big reasons I've vaccinated."
"COVID-19 infection can be a bad illness to get. That's the joy of the vaccines – we actually have something we can do to prevent it. Of the four vaccines now available in Canada, all of them prevent hospitalizations and death. So if you have an opportunity to decrease the illness in any way, why would you not get it?"
I have an 83-year-old mother. Because I work in health care, I'm exposed to COVID illness regularly. I just want to be vaccinated and have her vaccinated, so I decrease my risk of passing it to her, especially since she's in an extremely high-risk group.
Hockey and biking. I like doing those activities with friends, doing a group ride and after having a coffee together, especially with spring coming. Going for a long ride on a Saturday. That camaraderie.
What's been so amazing is how the world has worked together on tackling the pandemic. It has been incredible how fast we have been able to have a vaccine available and the opportunity to get so many people vaccinated. This has been accomplished by having so much shared data.
B.C. is sharing information around the world and learnings from recent studies from the UK and Israel has created an ability to know much more about the vaccine at a very rapid pace. So I feel very confident in the vaccines. I'm particularly proud to part of B.C., because I think they've done an incredible job of tracking the vaccines and following up on adverse events after immunization. So we truly know as much as we can, up to the minute.
Vaccinate because it protects those who you love. I don't think we're sending that message enough. It's not only about you, it's also about the other people in your life. In health care, vaccinate to protect someone else."