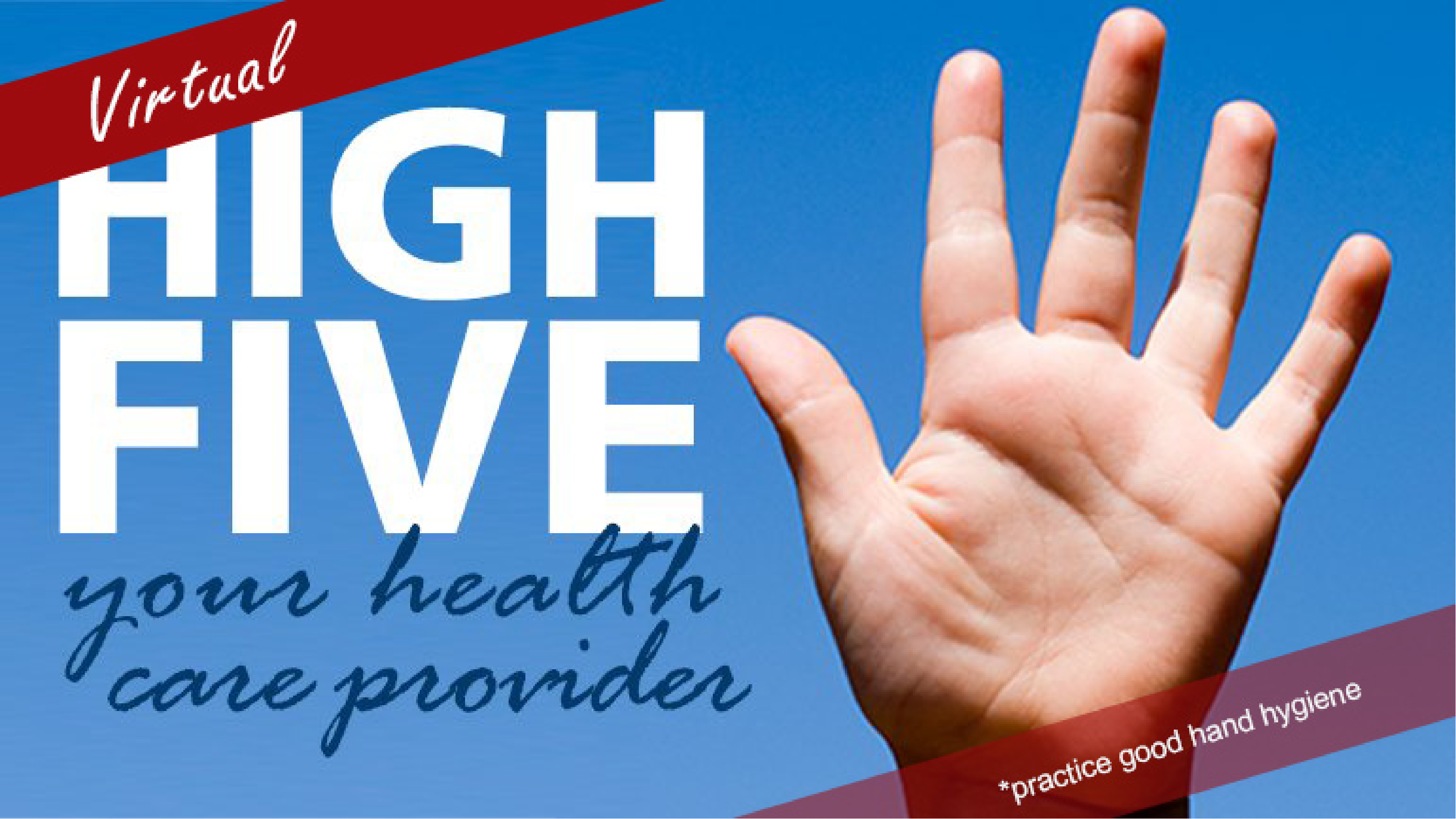 This week's high fives go to all our remarkable staff and medical staff
Want to send a high five to your health care provider or Fraser Health team member? Leave a comment below or send your thanks using our online submission form. Read more kudos at fraserhealth.ca/highfive.
---
For all Fraser

Health staff and medical staff
I am a retired registered nurse and proud member of the Royal Columbian Hospital Alumnae Association. For months my colleagues and I have watched proudly as you, nurses and carers, have given your all to protect society from the ravages of COVID-19. We wanted to help but could not and, even more, we wanted you to know how proud of you we are.
We alone know the stress you are under. We have worked in stressful situations many times but, in our case, there was an end to the situation within a short amount of time. We were able to cope because we knew that it would not be forever.
You do not have that promise. You have been working full out, day and night, seven days a week and still cannot see the light at the end of the tunnel. And you are doing it having to wear health care armour to protect yourself, your patients and your loved ones. You must worry about taking whatever you are dealing with home to your families, not just the physical virus but the emotional exhaustion you have undergone.
Who fills your cup when you are running on empty? When do you get to put your feet up and take a very deep breath? Those things are probably not a regular occurrence for any of you. And this is why we, all of those who came before, want you to know that we see you. We are cheering for you. We are trying our level best to do the things that will make this end soon for everyone, but especially for you.
You will survive this time and one day, when you get together with colleagues who have been through this time also, you will look back and be so proud of what you have done. You are our heroes and we just want to say 'Thank You'.
On behalf of all of the members of the Royal Columbian Hospital Alumnae and retired nurses everywhere, Bless You and Bravo.
Judi Georgetti
---
For Chilliwack General Hospital
I went to the emergency and everyone from the triage to the nurses and doctors were diligent, efficient, courteous and friendly. Kindly thank the team.
---
For Coquitlam COVID-19 Testing and Immunization Centre
I wanted to share my experience. I was very nervous prior to my vaccine appointment, as I hate needles. However, Sandie the nurse vaccinating me was very pleasant and made sure I was safe before I went home. Thank you for going the extra mile!
---
For Cloverdale COVID-19 Immunization Centre
I was well impressed with the whole organization setup, very professional staff and amazingly polite with a smile. The woman sitting behind my son was crying and scared. Immediately someone came to her rescue. How cool is that? Truly, a five stars health system!
---
For Langley Memorial Hospital
I am quite impressed by the level of care I received from nursing staff while at Langley Memorial Hospital.
A special mention to cardiac nurse Claire and emergency nurse Brett for their help with an ongoing cardiac issue I have been having. It's been a very scary road for me and I felt cared for and listened to. They both stand out and deserve special thanks.
---
For North Delta COVID-19 Immunization Centre
Just went for my COVID-19 immunization at North Delta Recreation Centre. Very efficient and friendly system. Great people. Thank you for all you are doing!
---
For Ridge Meadows Hospital
In the Pre-Surgical Daycare Program, I had Lisa as my nurse and I would like to thank her. She was absolutely amazing. She gave me such care and reassurance before my surgery. She also gave me amazing insights on nursing; I'm currently waiting to be accepted into the nursing program.
Thank you for inspiring me to hopefully one day become an incredible nurse as you are.

---
I just wanted to thank my nurse. I didn't get a chance to get her name as I only met her after waking up from my anesthesia. She was so tentative to me, right away asked me if I was sick or nauseous and gave me some anti-nausea right away. She was constantly coming to check on me, as I was very emotional, I wish I knew her name. Thank you.

---
For Royal Columbian Hospital
My son was unexpectedly admitted into pediatrics for feeding and jaundice issues. My maternity nurse, Erica, was wonderful. As a new mother, she provided me huge emotional support and I appreciate it more than I can say.