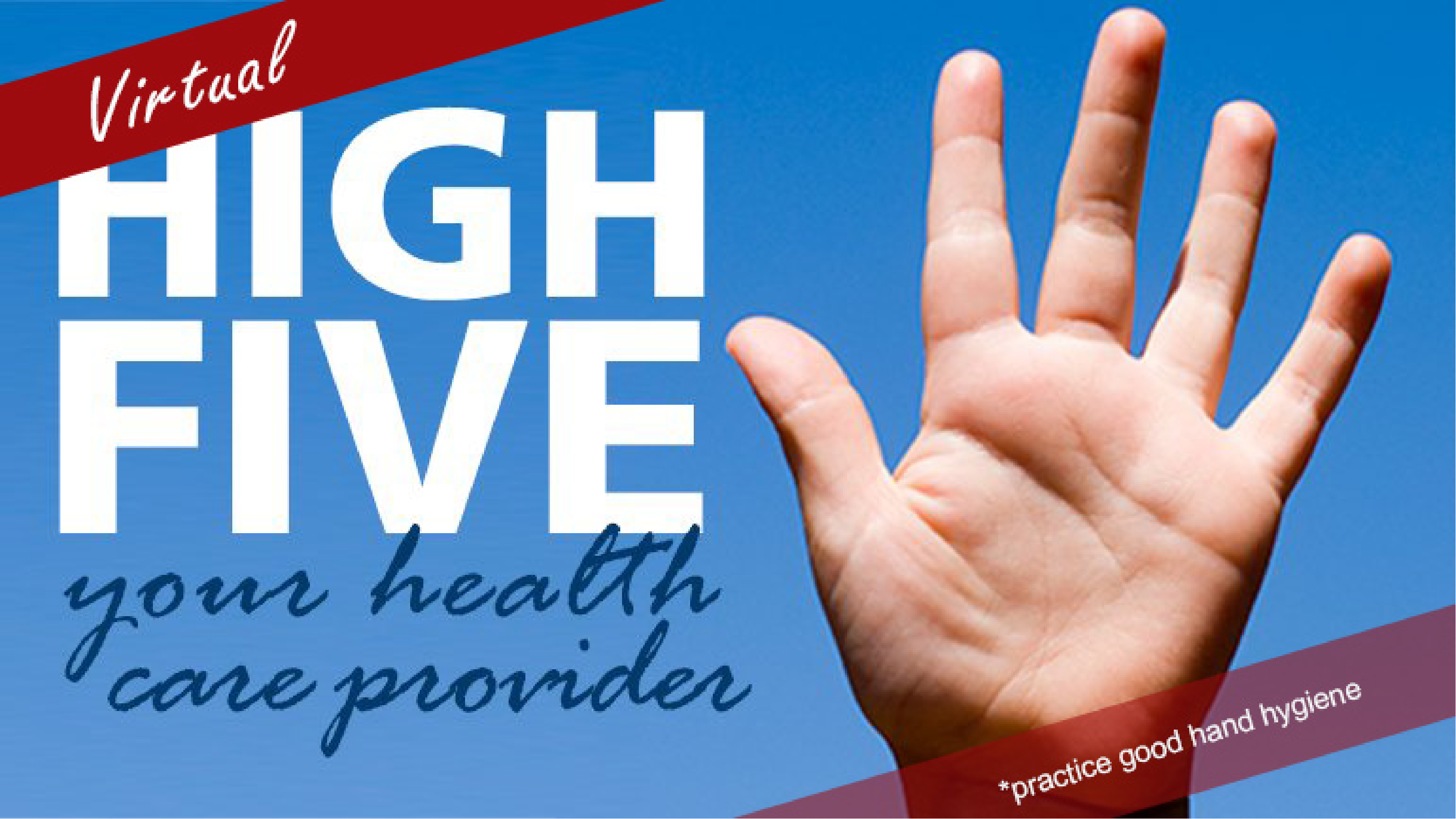 This week's high fives go to our remarkable people at Burnaby Hospital, Surrey Memorial Hospital, Royal Columbian Hospital, Peace Arch Hospital, COVID-19 Immunization Centres at the Cloverdale Recreation Centre and Langley Event Centre.
Want to send a high five to your health care provider or Fraser Health team member? Leave a comment below or send your thanks using our online submission form. Read more kudos at fraserhealth.ca/highfive.
---
For Burnaby Hospital
I just would like to thank Dr. Rana and the pharmacist at Burnaby Hospital.
It took me years of battle to finally find the right medication that works really well for me. So thank you so much for saving my life, and thank you to the nurses. I am forever in debt.
---
We wanted to show our full appreciation to all the staff at the Intensive Care Unit, especially Dr. Ahmed and all the nurses who took such good care of my mother in the last days of her life.
She was transferred there in a very poor condition on full life support. Under their care, my mother recovered significantly.
Thank you so very much.
---
For Surrey Memorial Hospital
I recently was at Family Birthing Unit and wanted to share my amazing experience with my postpartum nurse Ravneet. She was exceptional in the care she provided to us that night and answered all our questions and concerns with great patience and depth. She was so kind to us.
---
For Royal Columbian Hospital
I spent my morning at Royal Columbian Hospital today, and I never thought I would have such a great time.
From the arrival and registration with Rose to James, who took my blood pressure and who just had the nicest and most caring words, to the nurse with bright green nails and the lady who was born in 1984, just slightly older than me and the two guys down by the X-ray.
---
Dr. Stewart listened to every concern and was gold
---
My wife gave birth to our firstborn at Royal Columbian Hospital labour and delivery.
Staff did their best to make my wife comfortable during her contractions as they tried to make space for her. Nurses and doctors went above and beyond to ensure a smooth delivery and post-treatment—special shoutout to Raven and Stephanie.
---
For Peace Arch Hospital
I had to visit the Emergency at Peace Arch Hospital. It was so busy when we arrived, and yet the attention to my little one was outstanding. I also saw so many people doing such good work, fighting some serious battles for all of us. Thank you for your service. You are all amazing, and we are so grateful for you.
---
For Langley Memorial Hospital
I want to extend my sincere thanks to the staff in the emergency department and 4 South Central Medical Unit for the outstanding care and compassion they showed our family. They took care of my father-in-law and supported our family to be with him at the end of his life.
Regardless of the pressures on the hospital to manage the ongoing pandemic, the staff made us feel like we mattered. Thank you.
---
For COVID-19 Immunization Centre – Cloverdale Recreation Centre
High five to all staff at Cloverdale Recreation Centre. Warm and friendly staff from start to finish. Special mention to retired nurse on station four – your lighthearted conversation was appreciated.
---
For COVID-19 Immunization Centre – Langley Event Centre
My vaccination experience was 100 percent positive.
Langley Event Centre was so well organized, and everyone was friendly and kind. I had no side effects, not even a sore arm. I was very impressed. Thank you.