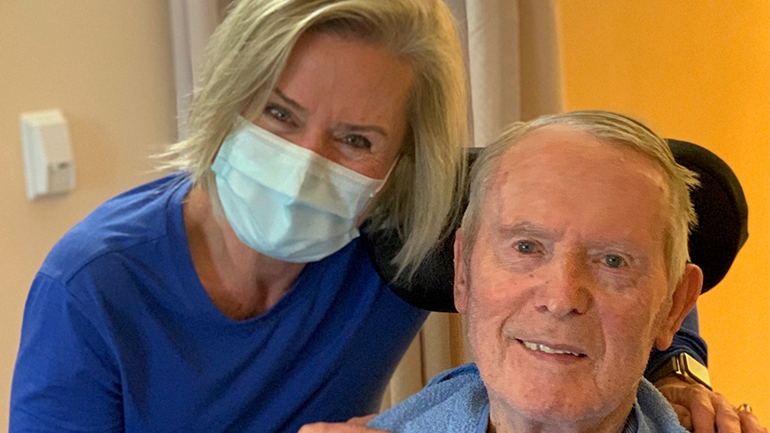 Hugging her father for the first time in 14 months was an emotional moment for Elma Melhus. "To see his smile and the brightness in his eyes was absolutely amazing," says Melhus.
Elma's father, Jim O'Friel, is a resident of Eagle Ridge Manor in Port Moody, one of 151 care homes in the Fraser Health region that are now providing more opportunities for families to spend time with their loved ones in care.
"The pandemic has taken a significant toll on residents, caregivers and their families," says Adrian Dix, Minister of Health. "When it was safe to do so, and more people were immunized against COVID-19, province-wide measures designed to protect vulnerable people living in long-term care and assisted living were eased. This has helped to improve the quality of life for families like Elma's, who now have an opportunity to reconnect with their loved ones."
Under the revised visitation policy that was implemented on April 1st, people living in long-term care and assisted living facilities can now have two visitors at a time, as well as a child, during scheduled social visits. They can hold hands and hug, and take their loved ones off site, provided that all public health orders and recommendations are followed. Visitor screening for COVID-19 and infection protection measures — such as wearing a medical-grade mask and proper hand hygiene— remain in place. Social visits are suspended if a COVID-19 outbreak occurs at a facility to protect the health of all residents, staff, medical staff, and families.
The B.C. Government announced non-essential travel restrictions April 23, 2021, to help keep communities safe and protect B.C.'s health-care system from COVID-19. Among the travel still considered essential includes visiting long-term care homes and assisted living facilities by essential visitors and social visitors.
"Our teams have worked hard to find ways to connect families virtually during the pandemic, but we know in-person connections are so important," says Dr. Victoria Lee, president and CEO, Fraser Health. "The new visitor guidelines are designed to balance the need for safe social interactions while being mindful that COVID-19 continues to spread in our communities. We must continue to abide by the public health measures that are in place to protect ourselves and our loved ones and get registered to be immunized as soon as eligible."
Fraser Health is part of a national study looking at the effectiveness of promising practices and interventions designed to keep residents, their families, caregivers and staff safe from COVID-19. Findings from the research will help strengthen pandemic preparedness, and will help reduce the consequences of potential future COVID-19 outbreaks.
"I'm grateful for the incredible efforts to keep my dad and others safe during the pandemic," says Elma Melhus. "To be able to sit with him in the same room, listening to music, brings a newfound sense of serenity. My dad seems peaceful, and he has hope."
For more information about COVID-19, please visit fraserhealth.ca/covid19.
For media inquiries, please contact:
media@fraserhealth.ca