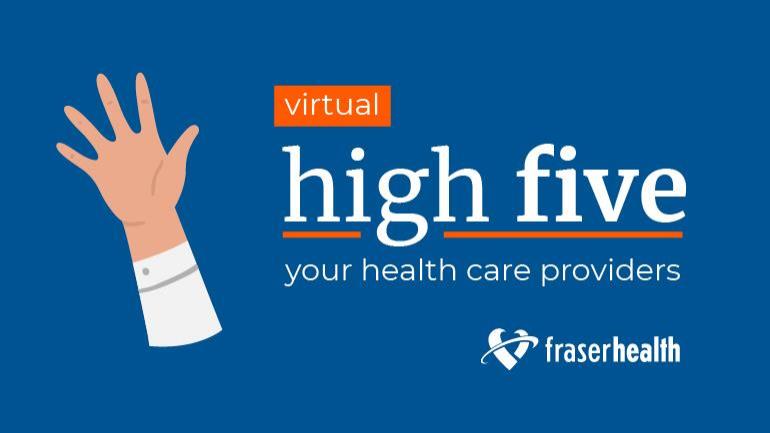 This week's high fives go to our amazing people at Eagle Ridge, Langley Memorial, Royal Columbian and Surrey Memorial Hospitals.
Want to send a high five to your health care provider or Fraser Health team member? Leave a comment below or send us your story here.
---
For Eagle Ridge Hospital
I would like to thank Monica in Surgical Day Care at Eagle Ridge Hospital. I had surgery and Monica did a perfect and professional job in caring for me. One of the most exceptional nurses I have seen in my whole life. I can't thank her enough.
---
For Langley Memorial Hospital
I recently was in the Emergency Department. From the nurse handing out masks, to registration, the triage nurse, emergency nurse, doctor and blood tech - everyone was kind, friendly, efficient and very caring. Christie and Dr. Higginson, you are both amazing. Thank you.
---
I would like to express my thanks and admiration to the emergency, surgical, postoperative, housekeeping and nursing staff at Langley Memorial Hospital. Amazing professionals, one and all. You made a hospital stay one of my more pleasant experiences. Chris and the postoperative team are like a fine-tuned Formula One pit crew. I've never seen anything like it.
---
I am sending my sincerest gratitude to Dr. Dhami, all the nurses and staff at the Langley Memorial Hospital Emergency Department. On two occasions my father-in-law and mother-in-law were treated by Dr. Dhami and the staff, who were the epitome of medical care and professionalism. You are true superheroes and guardian angels. Thank you.
---
For Royal Columbian Hospital
I would like to acknowledge my gratitude to the cleaner who helped me find the Interventional Radiology Clinic. He noticed that I walk slowly with a cane and offered his help. He walked me through the Blue Zone to the clinic. I thanked him but didn't get his name.
---
I was admitted to your hospital for a scheduled appointment. I just wanted to say that the amount of care I was given exceeded my expectations. Everyone was so kind; they took time to get to know me and the other patients that were in the room. One staff member that really stood out for me was Sarah.
---
For Surrey Memorial Hospital
I had a procedure in Surrey Memorial Hospital's Day Care unit. All the staff were so professional, kind and friendly. It was reassuring to see how thorough they all were with safety protocols and good nursing care.