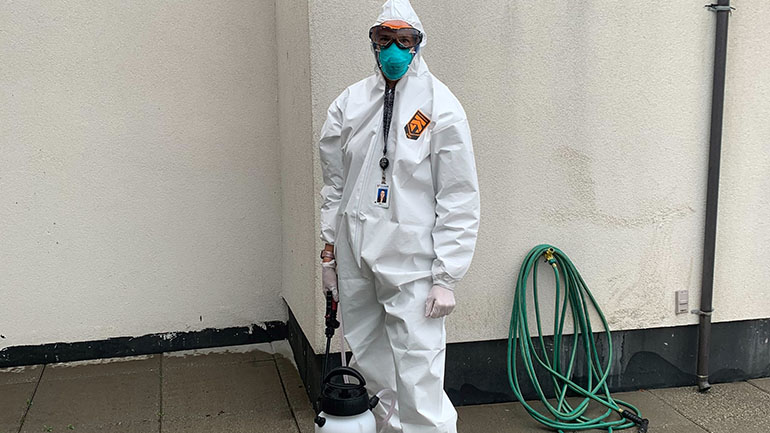 Early in the pandemic, Fraser Health's environmental health officers were tasked with designing and implementing effective infection prevention and control measures for a virus that we knew little about — and it took a lot of problem-solving.
Emily McGuire has been an environmental health officer with Fraser Health for 15 years. Prior to COVID-19, her regular caseload consisted of inspecting places such as restaurants, spas, and public pools to enforce regulations set by the Public Health Act. She also provided education to the public on the risks and hazards from things such as mold and pests in indoor settings.
Emily notes that the nature of this work makes environmental health officers particularly suited to assist with infection prevention and control in our communities during the pandemic. "We have a very unique skill set because we do health inspections on a regular basis. We also know about infection control and identifying hazards," explains Emily.
Emily recalled how the pandemic presented her with an abundance of new and complex hurdles to solve in her work. Businesses whose operations were affected by COVID-19 outbreaks were relying heavily on the environmental health officers to put protocols in place both to protect employees and also the viability of their businesses. "It was really hard in the beginning. Pandemic infection control was new territory for this team. We were taking our knowledge and applying it to the limited information we had about the virus at that time. Something like requiring Plexiglas partitions, for instance. I was made aware of shortages of Plexiglas and had to come up with alternatives such as corrugated cardboard that can be cleaned. It really was just a lot of problem solving."
When asked what her most interesting experience was, her answer was the outbreaks at local mink farms. Mink have been reported to become infected with COVID-19 and potentially spread it back to people.
"It sounds like something out of science fiction and it intrigues me," Emily said. "Just before Christmas we were notified that a farm had COVID-19 positive mink, and I was called to go out there. Several workers tested positive. We went through our regular inspection protocol, however, it's a farm, so it was very different than the processing plant cases we had been doing. We took our knowledge from that and figured out how to apply it to a farm environment."
Nineteen months later and Emily still enjoys her work. "My job is very unique in a lot of ways. That's what I like about it." Thank you Emily and the team of 70 environmental health officers whose problem-solving skills have proven indispensable in helping us navigate this pandemic.