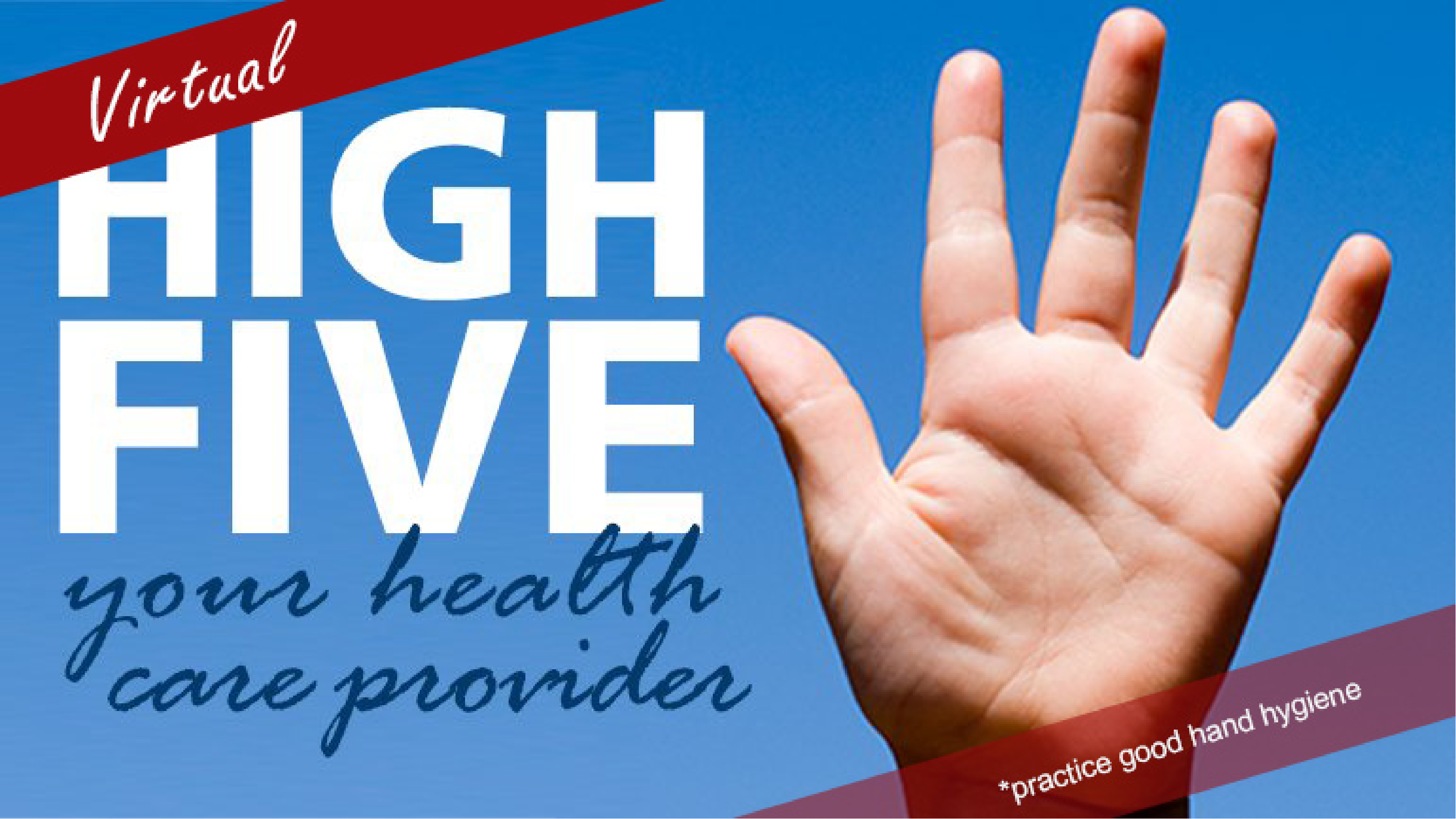 This week's high fives go to our amazing people at Abbotsford Regional, Burnaby General, Eagle Ridge, Royal Columbian, and Surrey Memorial Hospitals, and the Anvil Centre vaccine clinic.
Want to send a high five to your health care provider or Fraser Health team member? Leave a comment below or send your thanks using our online submission form. Read more kudos at fraserhealth.ca/highfive.
---
For Abbotsford Regional Hospital
I have had several appointments scheduled at Abbotsford Regional Hospital. My interactions with the staff, from the entrance of the facility (cheery and helpful) to the various departments (polite, efficient and warm) have been so positive! Collectively, they have made some anxious and stressful moments as easy as possible. I'm very grateful for their compassion and dedication. Thanks!
---
For Abbotsford Regional Hospital
To the Intensive Care Unit staff at Abbotsford Regional Hospital: I am absolutely thrilled about the best care I am receiving from every nurse, respiratory specialist, helpers, cleaners and whoever comes around. I am so grateful for the services and very hard work of each staff member. They are going the extra mile to help me to get better. I would like to thank them for all that they are doing here.
---
For Anvil Centre vaccine clinic
Just got home from getting my second vaccine. So relieved, I feel like crying! Staff and volunteers are all angels. Very friendly and efficient.
---
For Burnaby General Hospital
I was recently admitted to Burnaby General Hospital. I want to say thank you for the great care I received and a special mention to cardiac nurses Sharon and Helen.
---
For Eagle Ridge Hospital
My compliment goes to the Emergency Department and the second floor nursing staff. The staff were very professional, knowledgeable, welcoming, caring, funny and understanding. This high quality of care stands out. If or when I have to be admitted to a hospital, Eagle Ridge Hospital is my one of choice.
---
For Royal Columbian Hospital
I have to thank all of those who helped me through a horse riding accident. From the paramedics (Sean and Sean) who picked me up in Aldergrove, to the trauma nurses, doctors, physiotherapists, to all of the nursing, cleaning and physiotherapy staff. What an incredible team - so positive and helped me through a lot of pain. I must thank Barbara, the head of the nursing team.
---
For Surrey Memorial Hospital
I want to sincerely thank the Intensive Care Unit for saving my life during my fight with COVID-19. The extreme care I was given let me recover and return back to my family. We are forever thankful for all the doctors and nurses who dedicate their lives in helping others and being a light in this world.
---