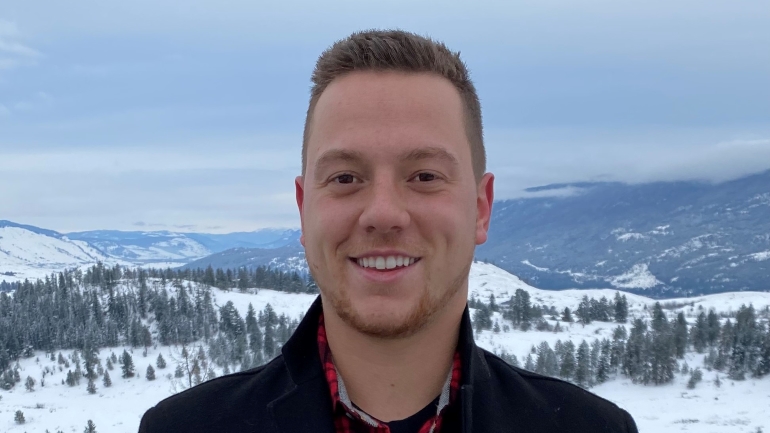 "What brings me joy is when the residents are happy and smiling. If I feel that there isn't enough positive energy, I try to create a playful atmosphere when I'm volunteering." Learn about Carson's career in volunteering and acknowledge his efforts during Volunteer Week.
Carson DeFreitas, Rehabilitation and recreation volunteer at Carelife Fleetwood, isn't your average bingo caller. Four years in, you'd think he'd be an expert, but the residents will tell you otherwise.
"I got demoted while playing bingo after dropping all the balls," Carson jokes. "All the residents were telling me to get off the machine. We all had a good laugh."
Luckily, he doesn't takes things personally. Actually, his bingo antics are a good example of his approach to keeping residents engaged in activities in an upbeat way.
Always fascinated by humans and their bodies, Carson has a biopsychology degree and is currently pursuing a post-baccalaureate diploma in counselling and human development from Simon Fraser University. Once he has completed this, he plans to go to medical school and become a physician.
Carson believes that volunteering is a great way to learn new skills, gain hands-on experience and explore ways to turn his passion for helping people into a successful health care career.
"I've always been very interested in bettering the community. From a young age, I was in swimming lessons and then proceeded to teaching and lifeguarding. It brings me to joy to help people out."
Before the pandemic, Carson provided rehabilitation support for seniors that have significant physical and cognitive challenges. He led different exercise regiments and documented the participant's progress and emotions supervised by physical therapists. In addition, he organized arts and recreational activities such as painting.
He's a favourite of residents and staff alike.
"I have witnessed his extraordinary positive attitude and kindness. I can honestly say he is a ray of sunshine to our day," says Linda Jense, volunteer resources coordinator at Carelife Fleetwood. "Carson has built close relationships with our residents and staff with his amazing rapport and sense of humor. He easily interacts with them and you can see that he cares about being here."
Carson considers empathy to be an essential aspect of volunteering. He believes empathy should be used in all aspects of life as it serves to bring out the best in humanity. He recognizes the importance that volunteering can have in building and fostering more empathetic interactions in our daily lives.
"Empathy is about listening to people's stories and showing them that you care. It's also about trying to absorb what someone else is trying to say – to let somebody be heard and to be understood."
The week of April 25, 2022 is Volunteer Week. Take the time to thank volunteers and auxiliary members at Fraser Health and read more volunteer stories at fraserhealth.ca/volunteering.
Interested in volunteering at Fraser Health? Learn about opportunities at fraserhealth.ca/volunteer.
For media inquiries, please contact:
media@fraserhealth.ca