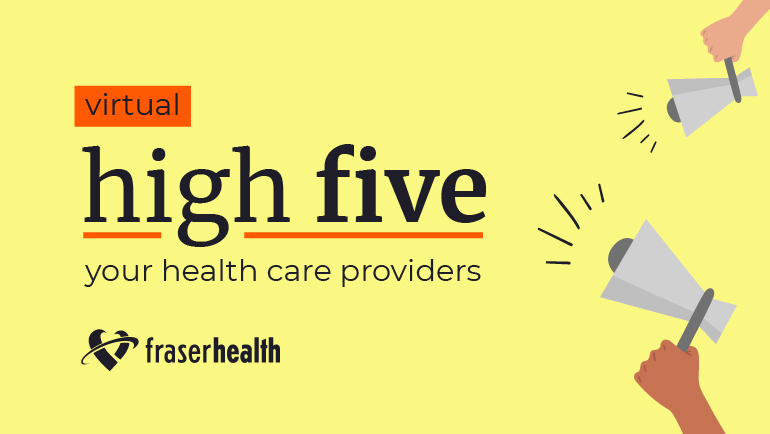 This week's high fives go to our amazing people at Abbotsford Hospital, Burnaby Hospital, Eagle Ridge Hospital and Surrey Memorial Hospital.
Want to send a high five to your health care provider or Fraser Health team member? Leave a comment below or send us your story here.
---
For Surrey Memorial Hospital
Big high five for nurse Minerva in Pre-operative. I was terrified, but thanks to her warmth and kindness I felt very well cared for. Thank you, nurse Minerva.
---
To nurse Jasmine (Jazz) in the Orthopedic ward: a big thank you for your kindness through my discharge process. Thank you for your warmth, understanding and humanity.
---
For Abbotsford Regional Hospital
I have to share with someone just how amazing and grateful I was to have Mary perform my Imaging test at Abbotsford Regional Hospital. I was nervous and anxious, and Mary was the calming rational voice I needed. I am grateful for your compassion and patience. You made all the difference in my experience. Thank you, Mary.
---
I'm so grateful for the whole team that supported me through my surgery with Dr. Mehin. From Pre-operative, surgery, recovery and to Baker 3, I was treated with such care and warmth. The whole experience was positive. Thank you so much.
---
For Burnaby Hospital
I was at the Emergency Department with my mother to visit my father. Sebastian, registered nurse, was in charge of the room. While Sebastian was explaining my father's situation, he noticed that I had a difficult time interpreting for my mother. So he proceeded to explain things to my mother in Chinese and to me in English. Both his English and Chinese are first rate. He is very attentive and answered our questions. Thanks.
---
For Eagle Ridge Hospital
I had a blood sample taken. The technician was convivial, knowledgeable and found my vein right away.