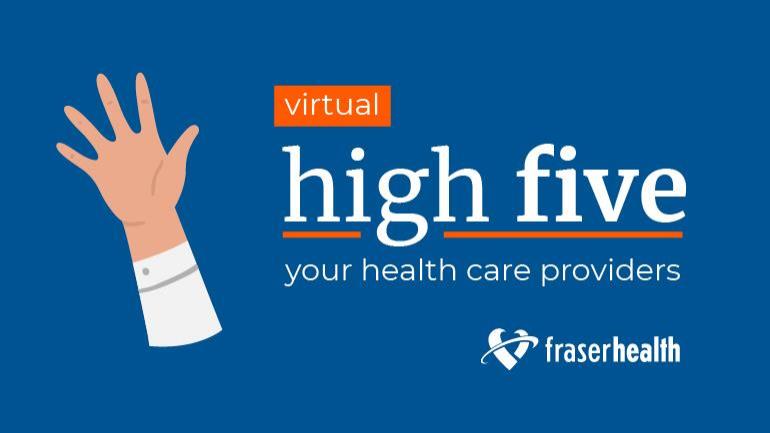 This week's high fives go to our amazing people at Abbotsford Regional, Burnaby and Langley Memorial hospitals and Langley Home Health.
Want to send a high five to your health care provider or Fraser Health team member? Leave a comment below or send us your story here.
---
For Abbotsford Regional Hospital
Thank you for calming and assuring me. I was really nervous and everyone I was in contact with was very calming and reassuring.
---
For Burnaby Hospital
I attended an appointment with Dr. Yu at Burnaby Hospital Pain Clinic regarding post surgery pain as well as a partial tear of my rotator cuff. Dr. Yu was extremely professional in his diagnosis, combined with a very candid and sensible approach to treating the issues. He was also very friendly and reassuring with the plan he suggested we take. Thanks again, Dr. Yu.
---
I would like to offer a thank you and a high five to a beautiful person working in the Emergency Department. The housekeeper, Gail, really went out of her way to make my mom and I both feel welcome and comfortable. She really made a difference and I want her to know she's appreciated. Thank you so much for making our day brighter.
---
For Langley Memorial Hospital
I just wanted to express my gratitude to everyone I encountered in the Laboratories, Emergency Department and Critical Care units. A hospital can be scary and overwhelming but every clerk, tech, nurse and doctor that I worked with during my recent stay was so helpful. Thank you.
---
My mother was visiting and suddenly became ill. She was admitted to Langley Memorial Hospital and spent three days in the Emergency Department before being admitted to unit 3 South. She passed away. She received excellent and compassionate care from nurses and doctors. Sincerest thanks to doctors Sheppard and Schemmer, nurse Bijo and many others. -Apologies for not remembering more names. You helped us to say goodbye to our mother.
---
For Langley Home Health
I want to express my deepest appreciation to the caregivers and nurses who cared for my wife in her final weeks at home. A very special thanks to those who took the extra time and personal interest to make sure she was comfortable.