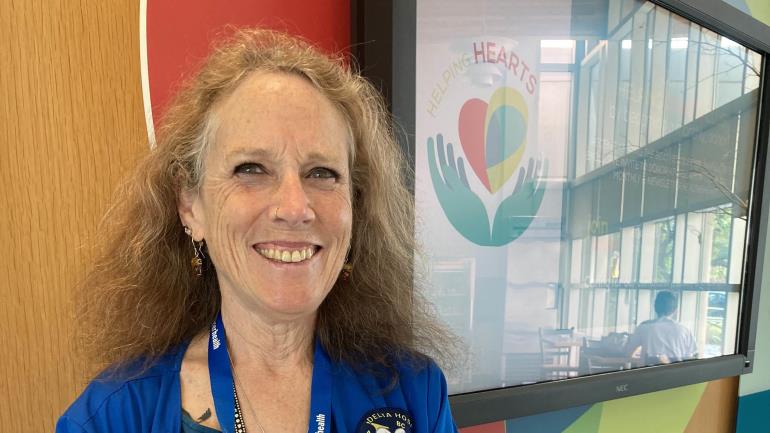 Janie's experience as a practical nurse in end-of-life care allows her to empathize with patients and their families. Read about Janie's volunteering contributions at Delta Hospital during Volunteer Week.
When injury caused Janie to leave her job as an education assistant for children with special needs, she felt drawn to return to her roots in health care.
Janie's devotion to the health care field was passed down from her mother, who was a nurse. This, coupled with Janie's passion for making a positive impact by helping others led her to pursue a career in practical nursing. Two of Janie's four children have followed in their mother's footsteps by choosing a path in health care as nurses as well.
Janie was drawn towards volunteering at the Delta Hospital's gift shop because it allowed her to help people in a hospital atmosphere again.
Her role in the gift shop isn't just about processing customer transactions. She takes pride in providing a comforting presence while interacting with patients and their families.
Her experience of being a nurse in end-of-life care allows Janie to understand the importance of being an active listener while providing emotional support to anyone who enters the gift shop.
"I'm happy that the customers can come in and relieve some of their stress by having somebody to talk to. It means that sometimes they are able to address some fears and stresses in their lives."
"Janie is bright, positive and very energetic. She is always willing to step up and help with other volunteer activities affiliated with our hospital and in the community," says Maureen Curtis, volunteer resources manager at Delta Hospital.
Janie also lends a hand as a volunteer at the Delta Hospital Auxiliary Society thrift shop in downtown Ladner. In both her role in the gift shop and the thrift store, Janie wholeheartedly believes empathy is a core aspect of volunteering.
"Empathy means I can put myself in other people's circumstances. I can sense their emotions and even feel how they are feeling. I can sympathize and accept them, regardless of whatever is happening in their life."
The week of April 25, 2022 is Volunteer Week. Take the time to thank volunteers and auxiliary members across Fraser Health and read more volunteer stories at fraserhealth.ca/volunteering.
Interested in volunteering at Fraser Health? Learn about opportunities at fraserhealth.ca/volunteer.
For media inquiries, please contact:
media@fraserhealth.ca