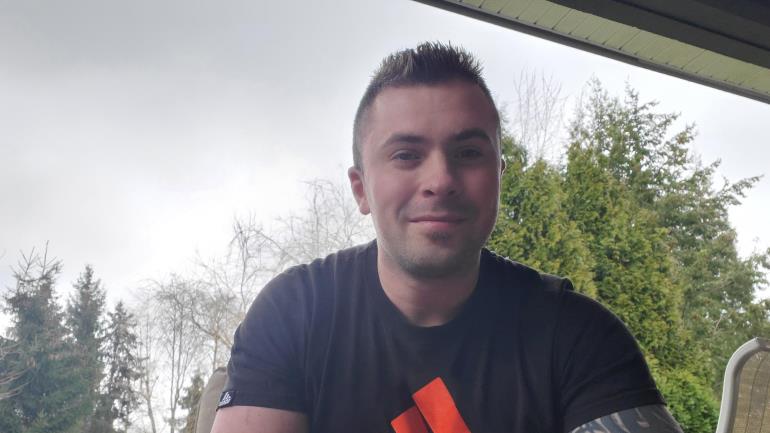 Patient-partner Brady Pawlyshyn brought living experience to our mental health and substance use programs. His family wishes to share his story in the hopes of preventing overdose deaths.
Brady Pawlyshyn shared his journey through substance use and addiction because he wanted to save lives. He knew it was vital to bring the patient experience to the forefront of care because he was the patient. His living experience helped shape Trauma and Resiliency Informed Practice (TRIP) — a Fraser Health program that recently received federal funding to help support the response to the overdose public health emergency and address the harms related to the toxic drug supply. Brady would have been proud to know that his work was recognized in such an important way. He died of an overdose on April 29, 2022 at the age of 37.
"Brady courageously not only shared the effects of trauma he experienced from repeated overdose events, but also the overwhelming guilt that followed, which was deepened by his interactions with health and social care," says Marika Sandrelli, knowledge leader and the driving force behind TRIP. "Always leading with a generous and humble heart, Brady didn't lay blame with service providers but worked collaboratively with us to understand the connection between trauma and stigma and what we all can do to show up in safer and better ways."
TRIP integrates knowledge and skills about how people are affected by trauma into workplace policies, procedures and services. The effects of COVID-19 and the overdose crisis have compounded the trauma experienced by care providers, patients and clients.
"TRIP is grounded in the theory that the more we are compassionate with ourselves, the more we can be compassionate with others. In other words, you can't give what you don't have," says Marika Sandrelli.
Brady gave willingly to support research into the delivery of virtual opioid agonist therapy (OAT) during the COVID-19 pandemic. He was part of the hiring process for a research assistant. He participated in patient quality forums. He exemplified how being a true partner in health care benefits everyone.
"Brady made an impact on so many people beyond what we know," says Brady's father Jim Pawlyshyn. "Drugs were one issue, but it was the embarrassment and guilt of relapsing and using again that caused the real pain. Brady couldn't shake that."
Brady's parents hope that by sharing his story, they will honour his wish to save "just one person's life."
Their first summer without Brady includes a road trip through B.C. and Alberta, with a stop to visit Brady's former room-mate, who also experienced addiction. He too was devastated by Brady's loss and struggled with how to best honour him. He did so in the most fitting way possible: His newborn son is named Brady.