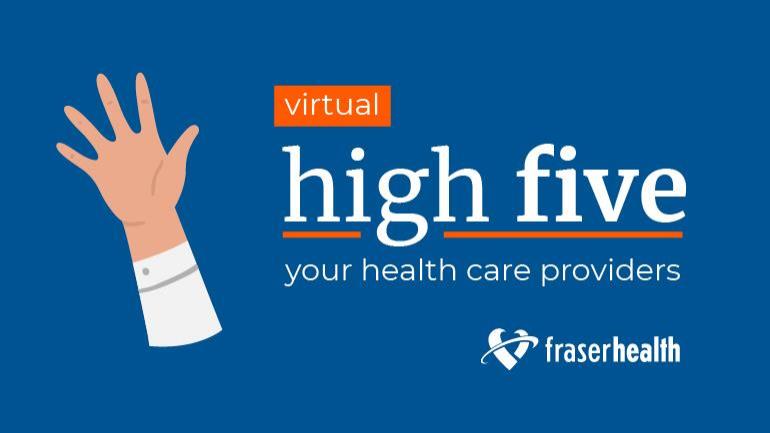 This week's high fives go to our amazing people at Abbotsford Regional, Burnaby, Eagle Ridge, Ridge Meadows and Royal Columbian Hospitals.
Want to send a high five to your health care provider or Fraser Health team member? Leave a comment below or send your thanks using our online submission form. Read more kudos at fraserhealth.ca/highfive.
---
For Abbotsford Regional Hospital
I had two appointments on the third floor in General Daycare. Each time it just got better and better. Very well organized, they work together, and they do it effectively and efficiently! Well done, third floor staff.
---
For Burnaby Hospital
I recently received excellent care from your team. When I walked in through the door, I was directed by friendly staff. I wanted to shout out to Wendy and the other nurses in pre-operative. Thank you.
---
For Burnaby, Eagle Ridge and Royal Columbian Hospitals
Thank you to all the hospital staff and especially the nurses for being there for my dad. Your hard work, love and understanding never went unappreciated.
---
For Ridge Meadows Hospital
I was taken to the hospital. I had chest pain and trouble walking. I was treated with concern and compassion by the fire department and ambulance staff. Once in hospital, I was treated by staff as if I was royalty! I was very impressed by the up-to-date equipment and how organized everything was.
---
For Royal Columbian Hospital
The staff, nurses and doctors were extremely awesome. They were compassionate and so caring, checking on me as often as they did. Kudos to them. They deserve five stars. Nurse Jackie in zone two was the best ever…I watched her treat every patient with care and love.
---