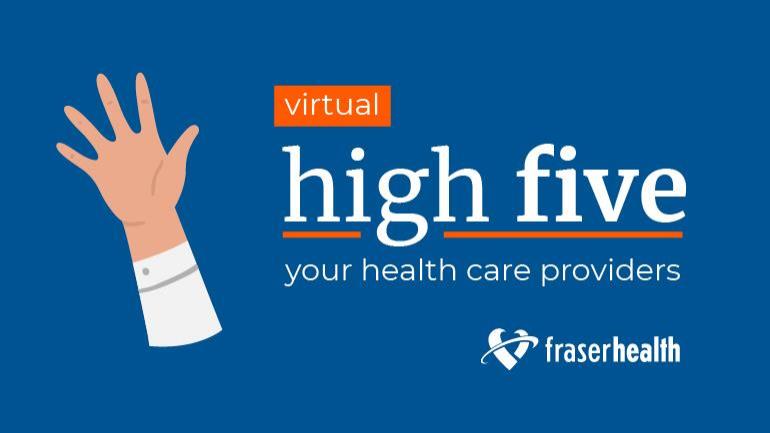 This week's high fives go to our amazing people at Eagle Ridge Hospital, Ridge Meadows Hospital, Surrey Memorial Hospital, Burnaby Hospital, Peace Arch Hospital, Royal Columbian Hospital and Queen's Park Care Centre.
Want to send a high five to your health care provider or Fraser Health team member? Leave a comment below or send your thanks using our online submission form. Read more kudos at fraserhealth.ca/highfive.
---
For Eagle Ridge Hospital
Shout out to Emergency nurse Ryla at Eagle Ridge Hospital for exceptional care. I was visiting my daughter from Ontario and Ryla made me feel as comfortable as could be. She advocated for me with the doctor to get me adequate pain relief as quickly as possible. She also looked after me despite doing triage. She is great.
---
For Ridge Meadows Hospital
Excellent care and service provided by staff and physicians at Ridge Meadows Hospital. Minimal wait times and prompt diagnostic scans resulted in quick diagnosis and required procedure being performed. Breathing capacity restored. Kudos in particular to Dr. Kelly and Dr. Plessis for collaborating on my care and treatment. Nursing staff was caring and professional. Thank you to all for your work and care.
---
For Surrey Memorial Hospital
Last week my mother was sent to the Emergency Room after being informed that she had cancer. The Emergency Room doctors that were working with my mother and our family, Dr. Martha Koen and Dr. Michael Kroeker, were amazing. During such a difficult time for us they showed their compassion and humanity while we reeled from this traumatic time. We thank both Martha and Michael for their authentic and kind way of being.
---
The team of doctors, nurses and other personnel in the "Mata Tripta" birthing unit provided excellent care for our daughter and gave us a wonderful, darling granddaughter. The memory of the events are deeply etched in our heart. They deserve our Kudos.
---
As a recent "guest", I want to compliment and thank the medical staff and other staff who attended to my needs. Everyone with whom I came in contact was considerate, professional and compassionate in their work. Being aware of the staffing pressures in the hospital, at no time was there any indication of the stresses of their jobs. Please convey my appreciation and respect.
---
Shout out to Ryan, the technician for my CT scan this week. Ryan was friendly and welcoming and provided a wonderful explanation of the care I was about to receive. I was really impressed.
---
For Queens Park Care Centre
I would like to express my sincerest thanks to all the staff at Queen's Park Care Centre stroke unit. My mom is a patient and every day we are so grateful to everyone and their dedication, especially Nora, Simeon, Roberta and Briana. A million thanks to you.
---
For Burnaby Hospital
My mom was in Emergency a few weeks ago and she was tended to by an exceptional nurse, Sheri. My mom thought she was just the bee's knees and responded well to Sheri's care. I found her to be extremely helpful, friendly, knowledgeable, professional, caring and kind.
---
For Peace Arch Hospital
Right from the moment we entered the main entrance, we were warmly greeted by helpful professional staff. The registration clerk was very helpful and kind. The staff at the desk at Surgical Day Care very welcoming. Volunteer Maxine was just a delightful lady. Nurse Cassandra was kind, caring and professional. Kudos to the staff at Peace Arch.
---
For Royal Columbian Hospital
The staff deserve all the credit we can give them. I witnessed all the hard work they do in this hospital from housekeeping to the doctors. From the bottom of my heart, I wish the staff at Royal Columbian Hospital every success in their career.
---