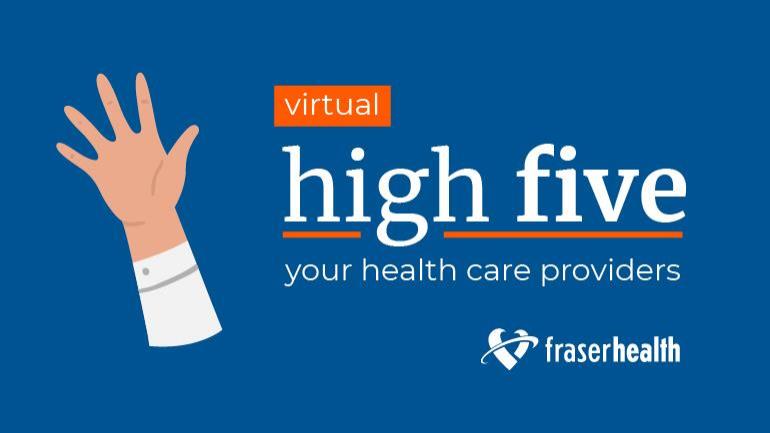 This week's high fives go to our amazing people at Burnaby Hospital, Chilliwack General Hospital, Delta Hospital, Jim Pattison Outpatient and Surgery Centre, Langley Memorial Hospital, Ridge Meadows Hospital, Royal Columbian Hospital, Peace Arch Hospital and Surrey Memorial Hospital.
Want to send a high five to your health care provider or Fraser Health team member? Leave a comment below or send your thanks using our online submission form. Read more kudos at fraserhealth.ca/highfive.
---
For Burnaby Hospital
I had a lovely experience with a CT technician named Livia who was absolutely amazing. From the moment she greeted me, to when I left, she was professional, had a great attitude, was efficient and was an absolutely lovely, supportive and calm member of your team. Great job Livia. Thanks again.
---
For Chilliwack General Hospital
I want to compliment Dr. Wiebe, Dr. Pierra, and the x-ray and Emergency Department staff. A horrible injury turned into a great experience. Thank you everyone.
---
For Delta Hospital
A huge thank you and shout out to the night shift staff at Delta Hospital. I brought my husband in after a fall. From registration to triage and through into the Emergency Department, all of the staff were great. He was assessed quickly and taken for scans. These nurses and doctors are our heroes.
---
For Jim Pattison Outpatient Care and Surgery Centre
I attended your surgical day care for a bladder procedure with Dr. Lazare. What an amazing facility. I want to make mention of Karen who looked after me prior to the procedure – she was kind, caring and made me feel at ease which was very comforting.
---
For Langley Memorial Hospital
Dr. Caroline has helped myself and my toddler on a few occasions. She is just wonderful. She explains things well and she is easy to speak with. I appreciate all the help I have received. The triage nurses and clerks were kind and understanding of my worried child. Thank you everyone.
---
For Ridge Meadows Hospital
I would like to compliment the Emergency Department staff who assisted me, including the cleaning staff, admitting staff, lab staff, nursing and medical staff. The speed with which they got me a CT scan appointment was important to calming my fears and the speed with which they found me an appointment for a biopsy was appreciated. The staff who did the biopsy were great.
---
For Royal Columbian Hospital
Thank you to Nurse Crystal in the postpartum maternity ward. She was very kind and helpful as I recovered from giving birth and was attentive to our newborn.
---
Thank you for such excellent care and compassion. All of the staff, nurses and doctors were excellent, from admission to discharge, during a recent cardiac procedure.
---
I would like to say a massive thank you to all of those who helped my family in my mother's final day of life while she was at Royal Columbian Hospital. To Jennifer in the Emergency Department and Alvie. You all made the toughest day seem a little easier with your patience, compassion and professionalism. Thank you.
---
My husband dislocated his shoulder and was treated well at Royal Columbian Hospital's Emergency Department. Nurse Wendell, Dr. Jang-Stewart and the other nurses were calm, friendly and professional. They did their best to keep him comfortable, despite his excruciating pain. We are very thankful for their help.
---
For Peace Arch Hospital
From the time we entered Peace Arch Hospital we were greeted with friendly, caring and professional health care staff. The registration clerk and staff at the surgical day care desk were very friendly and welcoming. Maxine, the volunteer, was truly a delight. Cassandra, our nurse, possesses a lovely, caring manner. Thank you everyone.
---
For Surrey Memorial Hospital
My 15-year-old son had his third eye surgery today due to a trauma injury. Our care has been nothing short of amazing. A huge thank you to Michelle and Alison – they went above and beyond.
---