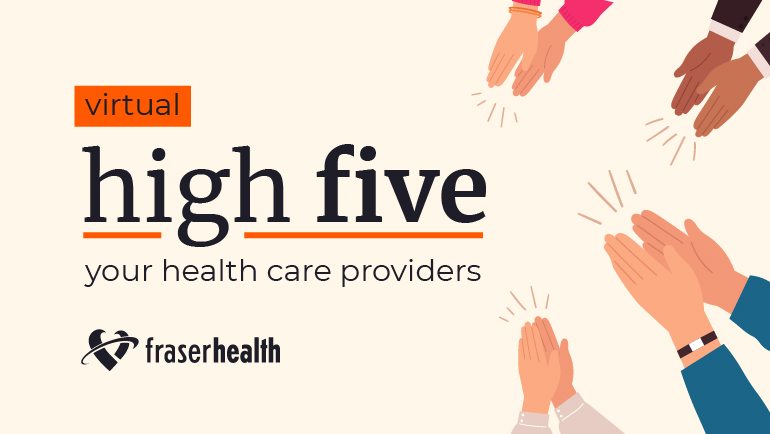 This week's high fives go to our amazing people at the Cloverdale Recreation Centre COVID-19 Immunization Centre, Fraser Canyon, Langley Memorial, Peace Arch and Surrey Memorial Hospitals.
Want to send a high five to your health care provider or Fraser Health team member? Leave a comment below or send us your story here.
---
For Cloverdale Recreation Centre COVID-19 Immunization Centre
I brought my little girl for her second COVID-19 dose. She was a little more nervous than she usually is with vaccinations. The nurse was very friendly and made her feel very comfortable. A snack and juice were even given by the friendly Emergency Health Services attendant. Thank you to all the health care workers. That little extra smile and conversation makes a world of a difference.
---
For Fraser Canyon Hospital
The nurses, paramedics and doctor who cared for me were so kind, compassionate and caring. Dr. Switzer and her team, Jessica and Teresa - thank you so much. You helped me deal with a very difficult day.
---
For Langley Memorial Hospital
High five to nurses Desiree, Jennifer and a double high five to Manni. I appreciate the words and the extra attention my mom and family received from all, especially right at the very end of her life.
---
For Peace Arch Hospital
I came in for a procedure. The Day Surgery staff and Dr. Francoeur made it an almost pleasant experience with their relaxed and friendly professionalism. Thanks to you all.
---
I had day surgery performed by Dr. Forbes at Peace Arch Hospital. I thank and compliment all of the caring and highly professional staff, both pre- and post-op: Dr. Forbes and Amy; hospital reception; the wonderful day surgery staff, Kathy, Ranjeet and Raj; staff, Carla, Jessica, Roland, Kathryn and Toni; the kind porters and the Operating Room staff who I didn't get to meet before going under. Thank you.
---
For Surrey Memorial Hospital
Hi, I became a proud father to a beautiful daughter. As much as I am ecstatic with this joy of experiencing parenthood for the first time, I just cannot forget the kind hospitality and warmth our daughter and mom received from our nurse, Kara. She's been an absolute strength in our delivery process. She went above the call of duty, missed her break and made sure our baby was delivered.