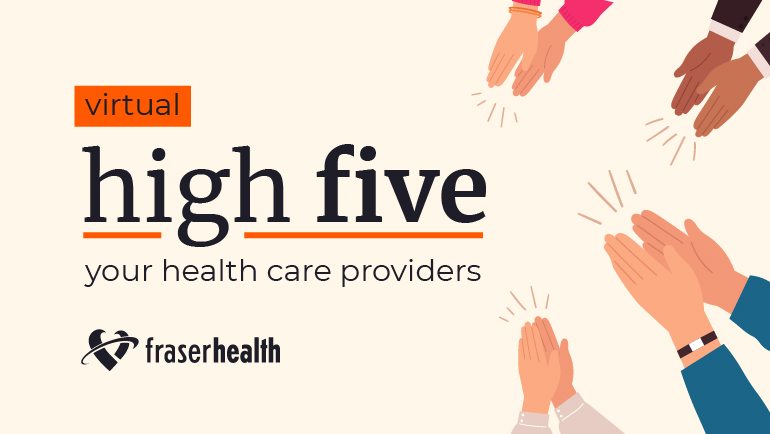 This week's high fives go to our amazing people at Delta Hospital, Jim Pattison Outpatient Care and Surgery Centre, Fellburn Care Centre, Surrey Memorial Hospital and Chilliwack General Hospital.
Want to send a high five to your health care provider or Fraser Health team member? Leave a comment below or send us your story here.
---
For Delta Hospital
Thank you so much to the nurses and staff that helped me feel so much better after I came in with really bad anxiety for a procedure. It was my first time. The nurses were amazing. Again, thanks for taking care of me.
---
For Jim Pattison Outpatient Care and Surgery Centre
I had a procedure and the technician who did the screening was fantastic. She explained the process, and was extremely gentle and very thoughtful throughout.
---
For Jim Pattison Outpatient Care and Surgery Centre
Monika did a great job as the instructor for my cardiac rehab exercise classes. This course is vital and has helped me greatly. Monika was engaging and demonstrated all the exercises very well. I liked her energy and how she motivated us. Gold star for her efforts. Thank you Monika.
---
For Fellburn Care Centre
My mom was transferred to your centre. She is very weak and can't self manage. We noticed your staff, especially Arlene and Lawrence, not only treating this is as a job -- they worked with heart and love to take care of patients. We all appreciate their efforts to make patients feel as warm as being in their own home. Thank you very much.
---
For Surrey Memorial Hospital
To the 3S Orthopedics team that looked after my father when he had a procedure. Thank you for the compassionate care you provided him. I worked as an employed student nurse and new grad with this team early in my career and recognized many familiar faces. Everyone is so hard working and I was so grateful to know my father was in good care and company. You all are amazing.
---
For Chilliwack General Hospital
I am sending this note to compliment the wonderful staff at Chilliwack General Hospital. Three years ago, I was diagnosed with acute myeloid leukemia. I am happy to say, after a successful stem cell transplant, I have beaten the odds and am in full remission.
Remission has been a great emotional relief but not without medical challenges arising from the transplant. Since the stem cell transplant, I have required ongoing monitoring and follow-ups. Many of these were done at Chilliwack General Hospital.
I want to pass my compliments and praise to the Chilliwack General Hospital staff in each of the departments I have visited in the past two and a half years.
This also includes the front-end COVID-19 screeners, the vaccination and testing clinic, outpatient check-in and Emergency Department staff.
Needless to say, I have interacted with dozens of individuals. Every person has treated me with the greatest respect, kindness, understanding and patience.