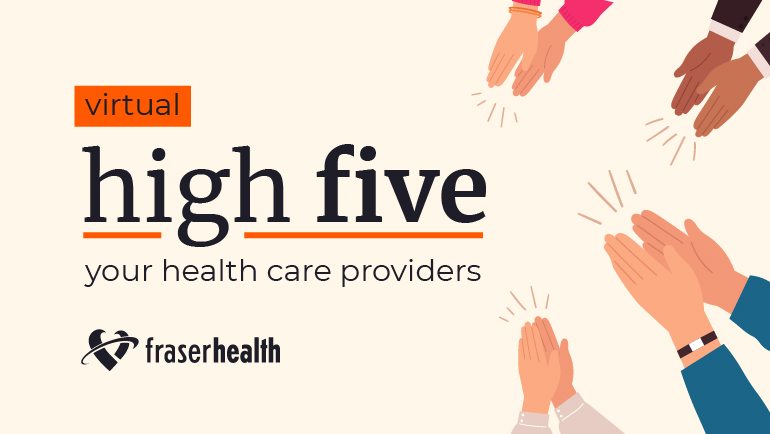 This week's high fives go to our amazing people at Langley Memorial, Peach Arch, Surrey Memorial and Burnaby Hospitals, and the Coquitlam COVID-19 Testing and Immunization Centre.
Want to send a high five to your health care provider or Fraser Health team member? Leave a comment below or send us your story here.
---
For Langley Memorial Hospital
I just want to express my gratitude to staff that I encountered during my day surgery. Everyone that I interacted with from surgical daycare (especially Michelle for being exceptionally kind) to the porters, the Operating Room staff and recovery nurses were kind, friendly and reassuring. Everyone is working under a lot of stress and burnout right now, but your staff were so gracious. Thank you.
---
For Peace Arch Hospital
Thank you to the staff of 6 South who helped my mom recover after experiencing a medical emergency. We greatly appreciate your dedication and kindness. Everyone from the medical staff to the porters, caterers and after-care liaisons were highly-skilled, friendly and amazing. She also found the food to be really tasty. I loved the warm "Happy New Year" message on the whiteboard.
---
For Surrey Memorial Hospital
My wife had to go into the Emergency Department after a fall, and I had to phone several times to find out how her care was progressing. The people handling the phone line were always so polite, helpful and efficient. They were great. I fear these days with so many sick that they often have to deal with difficult and stressful calls, so their always pleasant manner was especially great. Cheers and thanks.
---
For Burnaby Hospital
My deepest thanks for the nurses and doctors in the Emergency Department on Ward 3C and Palliative Care, who cared for my brother who had Down syndrome and dementia. Thanks to all the staff who listened to my explanation of why we had made a difficult decision of no further medically intervention. You provided me with support and education of the process and treated my brother with the utmost care and respect.
---
Once again, thank you to the team at Burnaby Hospital right from the Emergency Department to main entry and Surgical Ward 4D when my brother was in the hospital. I'd like to thank everyone in the hospital, especially Dr. Okamura, the surgeon, the staff in 4D, the occupational therapist Stacey, the nurses Joanne and Carol, as well as Ms. Linnea of Social Services, and Shirley the in charge nurse.
---
For Coquitlam COVID-19 Testing and Immunization Centre
To my favourite nurse who I chatted with about COVID-19 at the Coquitlam testing location when I was in line. Many thanks to you and your team for all your hard work. It is nurses like you who keep me wanting to take this pandemic seriously as you guys deal with so much everyday. I wish I could properly dedicate this message to you, but I unfortunately forgot to ask for your name.