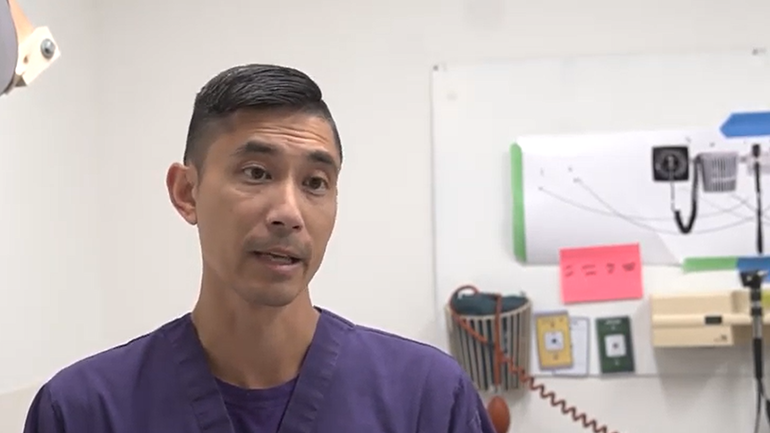 Dr. Da Roza in front of a full-scale model of a room in the acute care tower.
Dr. Gerald Da Roza, Head of Medicine and Associate Site Medical Director for Royal Columbian Hospital, knows how important the redevelopment of Royal Columbian Hospital will be for patients throughout Fraser Health.
"We do so many different things at Royal Columbian Hospital that are not done in any other part of the region – things like neurosurgery, cardiac services, trauma and independent postgraduate specialty residency programs," he explains. "Getting more resources, more space to help the patients both locally and in New Westminster itself is long overdue and will be of huge benefit for the entire region."
Dr. Da Roza, who has worked at Royal Columbian for the past 16 years, is looking forward to the new acute care tower, scheduled to open in 2025.
"It all comes down to patient care. This new tower will enable us to look after more people, do it better and bring in more resources and more technology."
He says a key benefit for patients will be added privacy. In the current hospital, most patient rooms are not private and there is no place for family members to stay with their loved ones during challenging times.
"It's really great to see the patient-centred approach with this building. The rooms are sizable. They have a couch for family members. They often have one bathroom per patient. There are opportunities for privacy so when we're discussing things with patients there's not three other people in the room. I see all those things as huge steps up from what we're doing right now.
The numerous safety features in the new building will also enhance care. Integrating new technology, such as physiologic monitors with the ability to transmit that information to the nursing stations, will improve safety, especially when nurses are looking after multiple patients at the same time. Safety features are also evident in the patient rooms.
"When you look at the rooms, the way they're designed – the brightness, the configuration – they're all designed to prevent things like accidental falls, slips, and things like that."
As much as he values the improvements for patients, Da Roza is also aware of the added benefits for staff. He looks forward to working in a bigger space, with nicer lighting and better ways to communicate.
"Going through things like COVID, you realize very much that the environment that you work in is a big part of why you stay, and I think by having this redevelopment…it's going to make it a very attractive place to work and a very exciting place to look after patients."
The Royal Columbian Hospital redevelopment project is a multi-phase project that will transform all aspects of the hospital and increase the number of beds by about 50 per cent.
Learn more about the project on our website.
Interested in working with the team at Royal Columbian? Visit our careers page.