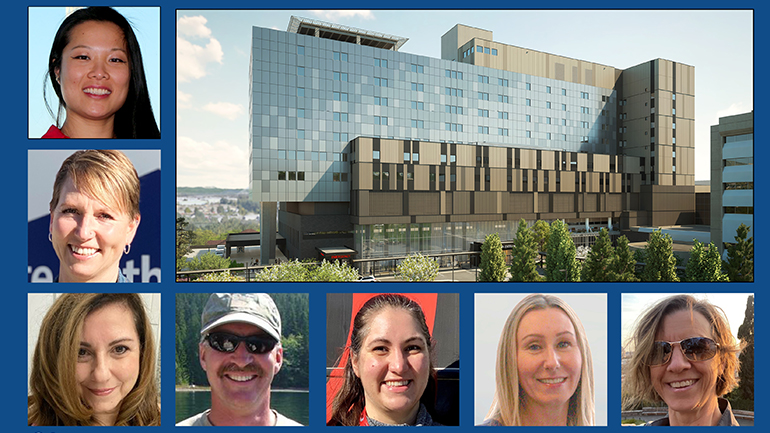 Learn more about the how the redeveloped Royal Columbian Hospital will benefit patients.
Some dedicated Royal Columbian Hospital staff have swapped their scrubs for office attire to put together detailed clinical plans for the new acute care tower. They are working to confirm the model of care for various units, planning how services will be delivered and preparing for the arrival of the first patients in 2025.
We asked them how the new acute care tower will benefit patients, and here's what they had to say:
Increased space
A key theme was the big increase in space. The acute care tower will almost double the size of the existing hospital. Kim Warwick, clinical operations lead for the Clinical Teaching Unit, talked about the importance of having more space available for family members:
"In the new design, there are family spaces [including sleeper chairs or couches] included in every patient room to allow families to be part of their loved one's health care journey," says Kim.
Private rooms
Most patient rooms in the new tower will be single patient private rooms. Andrea Cheung, clinical operations lead for Perinatal Services reports that all rooms on the maternity unit will be private for labour and delivery and in the post-partum period when families are bonding and connecting with their newborn.
"Our staff hear patient requests for private rooms every shift they work so we know this will be impactful," says Andrea.
Healing environment
There will also be more natural light throughout the building. Patients and families will have access to the outdoors from the units and have great views from the upper floors of the tower.
"There will be outdoor patient/family amenity areas where patients and their families can access the outdoors for some fresh air and take in the beautiful view of our surrounding mountains and the Fraser River," says Terry Welykholowa, clinical operations lead for Critical Care.
The right care in the right place
In addition to the hospital environment making for a better patient experience, the increase in beds and configuration of services will improve the delivery of care. The overall increase in patient beds (eventually up to 675 beds in total from 446) will add capacity and help to improve the flow of patients out of the Emergency Department. Jennifer West, clinical operations lead for Neurosciences, explains: "The goal is better access to care that is integrated, streamlined and collaborative…. ensuring patients receive the right care at the right time and in the right place."
The clinical operations leads continue to make use of their expertise in providing direct patient care as they work to finalize the clinical plans by the end of 2022. From caring for our patients directly to planning for our new state-of-the-art building, they are an important part of building a modern health care system for the needs of today and the future.
For media inquiries, please contact:
media@fraserhealth.ca