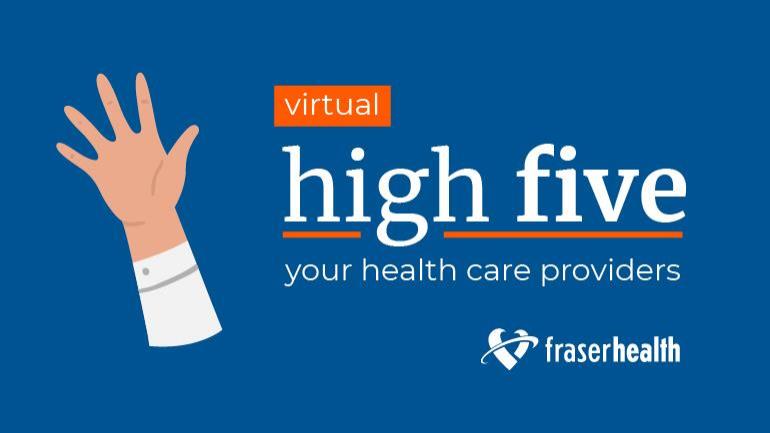 This week's high fives go to our amazing people at Peace Arch Hospital, Chilliwack General Hospital, Surrey Memorial Hospital, Ridge Meadows Hospital and the Surrey-Newton Urgent and Primary Care Centre.
Want to send a high five to your health care provider or Fraser Health team member? Leave a comment below or send your thanks using our online submission form. Read more kudos at fraserhealth.ca/highfive.
---
For Peace Arch Hospital
Thanks for your help!
---
I had to attend Peace Arch Hospital Emergency Department yesterday as my infant son had a fever. We received such great care from everyone we saw while we were there. We really appreciated the quick attention to him and the kind care that each staff member gave him.
---
I want to give a special shout-out out to my nurses (Sandie, Shiveni and Bianca) on six south surgical at Peace Arch Hospital for giving the best care to my mom. All of you were very friendly, had great senses of humour and were encouraging to my mom after her knee surgery. I greatly appreciate your passion for nursing.
---
For Chilliwack General Hospital
I would like to thank all of the nurses, doctors and support staff that provided me with excellent care from the Emergency Department. I presented with an issue that required quick action, lots of care and a big mess to clean. I cannot recall names but big compliments and thanks to the Emergency Department doctor, Emergency Department nursing and support staff, operating room and physician activity report nurses and four north staff.
---
For Surrey Memorial Hospital
My husband was admitted to the east third floor and I want to say what a wonderful, exceptional nurse he had. Her name is Nagmeh. He also had an exceptional nurse named David. These two nurses should get an award of some kind for their work ethic and their warmth.
---
For Ridge Meadows Hospital
To Rita in Radiology, your kind and reassuring demeanor when interacting with patients is awesome. You take the time to ease fears and your gentle and friendly way with patients doesn't go unnoticed.
---
For Surrey-Newton Urgent and Primary Care Centre
I took our autistic son to the Surrey-Newton Urgent and Primary Care Centre to see Dr. Niazi. Rather than pressuring [my son] to answer questions that confused him or turning to me instead, she asked him questions that only needed one or two words to answer. She listened to him, rephrased questions when needed and only looked to me for subtle confirmation. Thank you, Dr. Niazi, for treating him kindly and with true respect for his needs.