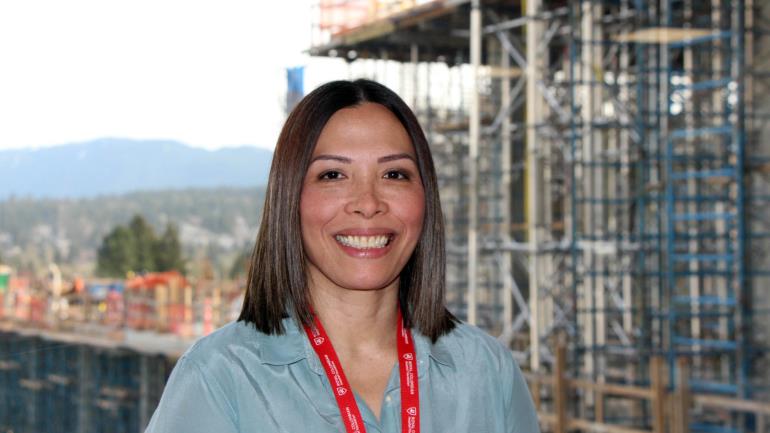 Royal Columbian Hospital staff and medical staff help shape Emergency Department expansion.
Anna Abaya, manager of clinical operations at Royal Columbian Hospital, feels privileged to be part of the redevelopment of the hospital's emergency department.
An emergency nurse at Royal Columbian Hospital since 1999, Anna is providing valuable feedback into the design and operations of the place where she loves to work.
"We're planning the new emergency department for the patients," she explains. "The kindness and empathy we provide for all patients will come through in the design for the new space."
Built in the 1990s, the existing emergency department has outgrown its space. When the new department opens in 2025, it will have 75 treatment spaces in five zones with separate waiting areas. The larger space and better layout will allow Anna and her team to provide life-saving care to more patients in a modern, efficient area.
"It's exciting because we'll have the space to be able to care for more patients," says Anna. "We'll be able to get patients into the emergency department faster and give them the timely care they need."
Anna looks forward to having a medical imaging area located within the department. This will eliminate the need for patients to travel through long hallways, speeding up access to diagnostic services. Not only will the new emergency department improve the experience for patients, staff will benefit from new equipment and safety features, like internal waiting areas for each zone.
"To have new equipment and be able to do electronic charting will be amazing," says Anna, who began her career using paper and pen. The Royal Columbian Hospital redevelopment project is a multi-phase project that will transform all aspects of the hospital and increase the total number of beds by about 50 per cent.
Read more about the Royal Columbian Hospital redevelopment project on our website.
Interested in working with Anna and the team at Royal Columbian Hospital? Visit our careers page.