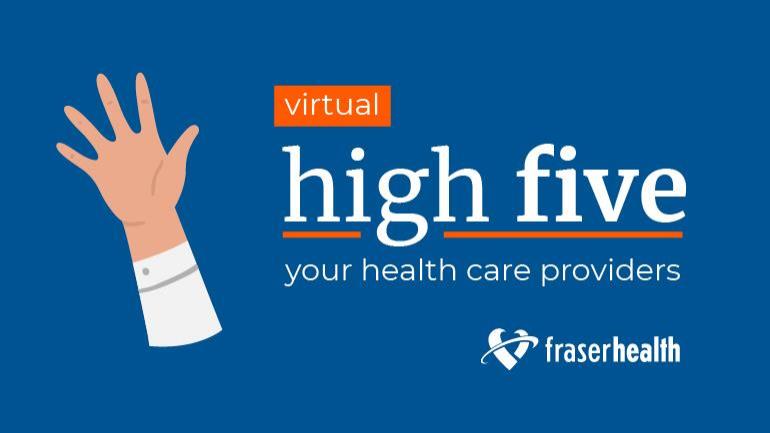 This week's high fives go to our amazing people at Burnaby, Eagle Ridge, Surrey Memorial, Peace Arch and Mission Memorial Hospitals.
Want to send a high five to your health care provider or Fraser Health team member? Leave a comment below or send your thanks using our online submission form. Read more kudos at fraserhealth.ca/highfive.
---
For Burnaby Hospital
Dear Dr. Jay and team, your dedication and kindness are priceless. Thank you so much for my health and happiness. We sincerely appreciate it.
---
For Eagle Ridge Hospital
I recently spent five days in the COVID-19 ward at Eagle Ridge Hospital. The nurses and staff that cared for me were absolutely superb, including the amazing Dr. Vasile. All were caring, considerate, helpful and devoted to my care. I would like to especially mention Tiffany and Winnie, who were delightful. My sincere appreciation to Eagle Ridge Hospital.
---
My mom had to go to the Emergency Department. Throughout our whole stay, every single employee or volunteer we encountered was extremely friendly, helpful and always had a smile on their face. Thank you.
---
For Surrey Memorial Hospital
We were in the Pediatrics Emergency Department at Surrey Memorial Hospital. The staff were excellent, kind and helpful. We are so thankful for their care for our daughter.
---
For Peace Arch Hospital
I attended Peace Arch Hospital for an MRI. Due to the time of day, I entered via the Emergency Department. I cannot walk due to extreme sciatica. I interacted with two of your staff who both made my visit to your hospital a pleasant experience. The nurse at the Emergency Department went over and above to get me to the MRI with a wheelchair. The nurse at the MRI Department was extremely efficient and looked after my needs being unable to walk. When the procedure was finished, she made me feel welcome until my wife arrived to take me home. I appreciated that she took me by wheelchair to the main entrance – it was almost like the treatment of leaving a high-end resort. Many thanks.
---
For Mission Memorial Hospital
My husband was brought in three different times with complications due to diabetes. Two times I brought him in. The third time, he was brought by ambulance. He was nearly in a coma due to extremely low blood sugar. I just wanted to say that the help from the doctors, nurses and ambulance attendants was incredible. Thank you all.