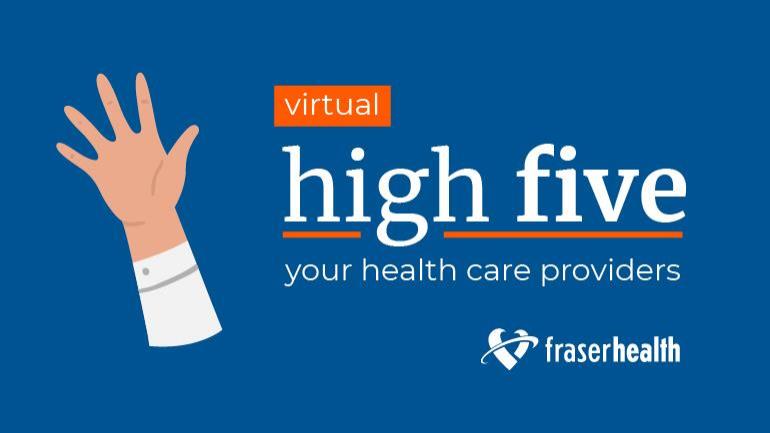 This week's high fives go to our amazing people at Delta Hospital, Eagle Ridge Hospital, Royal Columbian Hospital, Surrey Memorial Hospital and Fraser Health Virtual Care.
Want to send a high five to your health care provider or Fraser Health team member? Leave a comment below or send your thanks using our online submission form. Read more kudos at fraserhealth.ca/highfive.
---
For Eagle Ridge Hospital
I just wanted to pass on our sincere thanks for the efforts of your team. My mother had been sent from Parkwood Manor in Coquitlam to Eagle Ridge Hospital and the standard of care has been overwhelmingly good. The information given and the level of caring is most appreciated. These processes are very new to us but your team has been extremely patient and informative. From the original Emergency Department visit, to the physiotherapy follow-ups, to the geriatrician visit, thank you again for all your help.
---
For Surrey Memorial Hospital
On behalf of my family, thank you so much to Dr. Chuah and the operating room team for taking such good care of my mother, and to the Three South Pod Four staff who also treated my mom with such care. I was nervous about her surgery initially, but the staff immediately made me feel at ease that she'd be in good hands. Beyond grateful for your kindness and support.
---
For Royal Columbian Hospital
I was in the Emergency Department. I have a blood clot in my brain. I had some episodes so I went in. I was waiting for a doctor and there was a nurse, whose name I think is Kelly. She was really helpful and calmed me down. Without her advice I would have panicked before I saw the doctor. I want to say to her that I am very thankful.
---
I would like to thank the security officer, Sara, at Royal Columbian Hospital for helping a distressed patient. She went above and beyond.
---
For Delta Hospital
Having had multiple kidney stone attacks over the past 35 years, Delta Hospital Emergency Department has dealt with this extremely painful condition with compassion - and more importantly - dealt with the agony effectively.
---
For Fraser Health Virtual Care
This is a commendation for Nurse Monica. She showed sensitivity and understanding to our needs. She calmed us down and helped us focus on the appropriate actions. She removed our anxiety. She was personable and informative. Monica is great.