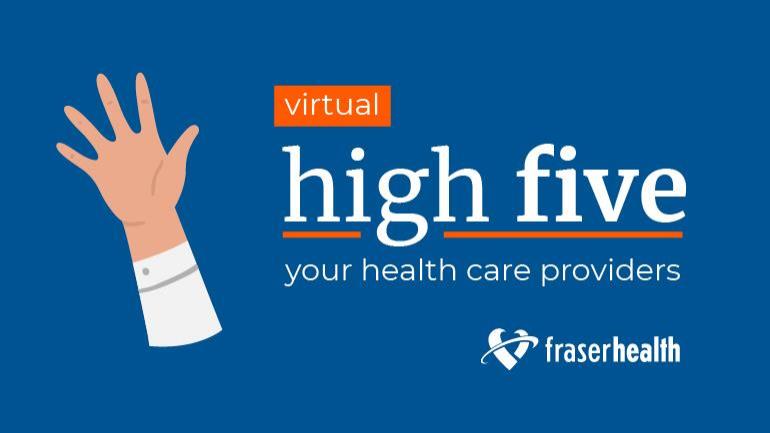 This week's high fives go to our amazing people at Langley Memorial Hospital; Queen's Park Care Centre; Ridge Meadows Urgent and Primary Care Centre; Royal Columbian Hospital; and Surrey Memorial Hospital.
Want to send a high five to your health care provider or Fraser Health team member? Leave a comment below or send your thanks using our online submission form. Read more kudos at fraserhealth.ca/highfive.
---
For Langley Memorial Hospital
I was taken by ambulance to the Emergency Department. I spent one and a half days there, then went to the Critical Care Unit for two days and Ward 3C. I didn't get their last names but here are people who I felt went above and beyond: Brenda, Dave, Alexandra, Connie, Robert, Susan, Anju, and two special angels, Kailey (Critical Care Unit) and Jodi. No one wants to be in the hospital but these special people were terrific. Thank you all.
---
For Queen's Park Care Centre
I would like to thank all the nursing staff that helped me with my stay at Queens Park Care Centre Rehabilitation. They were always very helpful. I would also like to extend a very special thank you to Jo and Gabby who helped me so much in my physiotherapy while there. I jokingly called them torturer one and torturer two. They were so fun to work with. Thank you all.
---
For Ridge Meadows Urgent and Primary Care Centre
We had to bring our infant daughter into the Ridge Meadows Urgent and Primary Care Centre recently. The staff there were wonderful. Every staff member seemed to enjoy their role and our daughter received great care. Great job everyone!
---
For Royal Columbian Hospital
I personally wanted to thank Natalie, a nurse from the Emergency Department. She was so kind and compassionate and I felt very cared for. I hope you can pass on this information to her. It really means a lot when you're impacted in a positive way. Many thanks!
---
I'd like to thank Natalie from the Emergency Department. When I came in, she was very kind and compassionate, and I felt really cared for under her service. Thanks Natalie.
---
This is long past overdue, but I will never forget the care we got in May, 2020, during the lockdown, when we had our son. It was full lockdown and should have been a really scary time, but we were so well cared for that we were as comfortable as possible, and the nursing staff was exemplary.
---
For Surrey Memorial Hospital
My compliments to the excellent team at Ambulatory Care. They did a great job during my recent procedure; everyone was efficient yet took time to reassure me and make me feel confident in the care provided. I especially want to thank the person who inserted the IV and distracted me by asking about my garden; a very nice gesture. I felt nothing. What a lovely lady. Thank you.