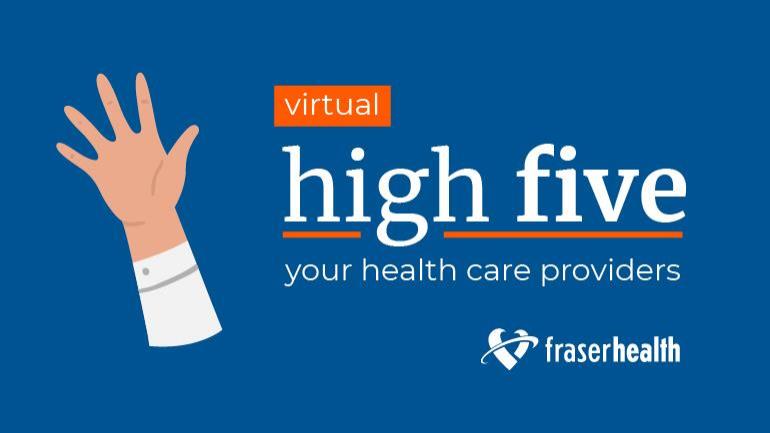 This week's high fives go to our amazing people at Queen's Park Care Centre, Langley Memorial Hospital,
Peace Arch Hospital and Chilliwack General Hospital.
Want to send a high five to your health care provider or Fraser Health team member? Leave a comment below or send your thanks using our online submission form. Read more kudos at fraserhealth.ca/highfive.
---
For Queen's Park Care Centre
Hello Raquel, Scott, Revi, Dr. Mac, Collette, Shoby and Sharlow,
While this is a hard email to write, it is only hard because of the circumstances, certainly not the content.
I want to say thank you to you all and your teams.
Raquel,
Thank you personally, you never made me feel rushed when I spoke with you, no matter how busy you are, I always felt like I was the most important at that time.
Your team of nurses, notably at 2E, whatever their designation, was fantastic, particularly over this last weekend when some difficult conversations were had. I will name a few names because of some exceptional time spent with me and Mom, but that is not to diminish how all of the staff was, notably through this past weekend. Jaime had the calm and time to discuss some difficult things around the end of life, assisting me and showing me how to feed Mom. Rizah was very sensitive when speaking with me, notably on Monday after Mom had passed.
Through the weeks all of the nurses made some special connection with either Mom or myself. Jas always took the time for me and my questions; Ricson, today your heartfelt hand on my shoulder was the same as I witnessed when you were tending to Mom.
All of the nursing aides (and I'm sorry I will miss most of your names), Phillipa, singing with Mom, as did many of you, and encouraging Mom to dance.
Dr. Mac, you always took the time to answer my questions and help me work through some difficult decisions. Thank you for never making me feel like I was taking up your very valuable time.
Scott, I cried in your office on a couple of occasions. Thank you for your comfort you provided me.
Revi, the kind words you said to me over the last couple of weeks in particular will forever stay with me. I cannot say enough about how I will never forget my last trip with Mom to the nursery, a trip we did yearly on Mother's Day, a tradition I was able to continue up to the last week of her wonderful life.
Collette, thank you for the extra efforts you provided to get Mom to music therapy, and then brought the therapy to her room when she couldn't find the energy to get up.
Shoby, you were my first contact with Fraser Health. Thank you for responding to all my questions when I was at my wits end and completely exhausted. You made Queens Park happen for me, and while you know the facility was not my chosen one for Mom, I wouldn't have moved Mom to another facility given the option; as you can see by all my comments above, the staff at Queens Park is a fantastic group!
Sharlow, I know you will pass all of these great words onward and upward, and this most definitely needs to happen. All of the staff at 2 East was exemplary.
To the team at Queens Park, 2 East specifically, thank you from the bottom of my heart.
---
For Langley Memorial Hospital
I am writing this letter as a witness and acknowledgement to the outstanding patient care administered to my sister in Langley Hospital. This particular nurse's caring and empathetic manner [and] professionalism, along with nursing talent, cannot go unnoticed.
As I've been in health care myself for over 30 years, retired, I realize the importance of showing compassion and sharing information with patients and their family; it gives them hope and confidence for the future, as this can be truly a difficult time for the patient and family.
[Darlene] always had a smile and a good word to say when she came in the room, which gave one the sense that my sister was the only patient she was caring for. Her information sharing or giving us updates also left me with the comfort that something was being done for my sister, and someone had her best interest in mind. I called her the "pseudo nurse angel" as her skills went beyond the call of duty.
In closing again I, my family and my sister would like to thank Darlene for her time and the patient care she has given my sister. We are very grateful.
---
For Peace Arch Hospital
My 90 year old mother recently fell and fractured her hip. While recuperating in the surgical ward, she was lucky enough to have Cody as her nurse for several days. His positivity and caring personality helped her through those days. Thank you, Cody!
---
For Chilliwack General Hospital
I came here with my son today. It was very busy but all of the staff we encountered were so kind and helpful. David and Marina, the screeners, really went above and beyond dealing with the large volume of folks visiting the Emergency Department. My son was not excited to get blood work but the nurses and lab tech were very patient and we got it done. Thank you all for everything that you do!