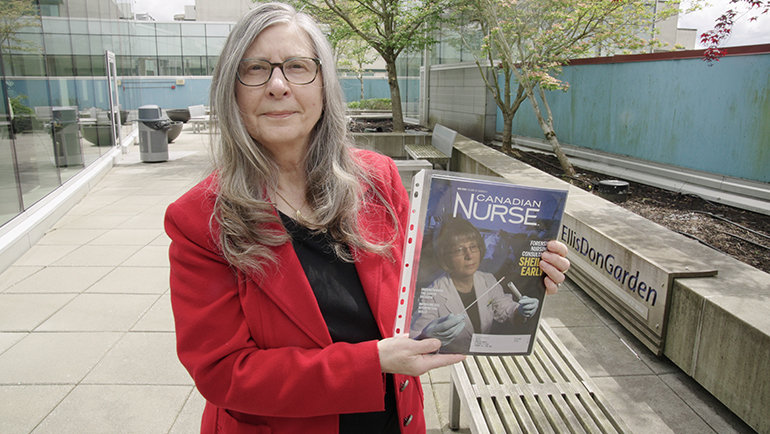 In 1992, Sheila Early co-founded the Sexual Assault Nurse Examiner (SANE) program at Surrey Memorial Hospital. Since then, she has continued to educate, mentor and advocate for forensic nurses across Canada.
In 1992, Sheila Early co-founded the Sexual Assault Nurse Examiner (SANE) program – now called the Forensic Nursing Service – at Surrey Memorial Hospital. It was the first of its kind in B.C. and second in Canada, and educated nurses on how to gather legal forensic evidence while providing supportive, confidential nursing care to sexual violence patients.
"A complaint had come in about the length of time it took for a victim of sexual violence to receive an exam," says Sheila. "I looked into it and realized that nothing had changed in the process since when I first started working in emergency. If we were treating myocardial infarctions in 1992 the same way we were treating them in 1970 that would be very unethical."
She knew that things needed to change. She approached Sandi Schenstead, the manager of emergency, and Kathy Kinloch, the director of nursing with her plan for SANE.
With their support, and funding from the Surrey Memorial Hospital Foundation, a program pilot was launched, including a partnership with B.C. Women's Hospital for the development of its education and curriculum.
"By the time SANE was developed, I came to the very real realization that I wanted to be in this role – so I added another title to my job," says Sheila. On February 4, 1994 she performed the first exam by a sexual assault nurse examiner (now forensic nurse examiner) in the province.
Sheila has since co-founded the Forensic Nurses' Society of Canada (now the Canadian Forensic Nurses Association) and served as president of the International Association of Forensic Nurses – the first non-U.S. citizen in the role. She also founded the internationally-recognized Forensic Nursing Sciences Option Program at BCIT, where she taught and designed courses until 2020, and currently serves as the president of the Canadian Forensic Nurses Association.
She has coached and empowered nurses from across Canada and serves as a role model and mentor for many. When asked about the impact that Sheila has had on her career, Hannah Varto, a forensic nurse practitioner working with Fraser Health's Embrace Clinic at Surrey Memorial Hospital, doesn't mince words.
"Personally, I would not be where I am today without Sheila taking me under her wing as a very keen and brand new nurse," she says. "Many of the nurses and nurse practitioners leading the push for forensic nursing across Canada can say that Sheila has made a significant impact in their careers. She's made Fraser Health a leader in forensic nursing and our team is consulted and looked to for guidance and leadership across Canada."
When asked about impact, Sheila mentions her own role models.
"I had such excellent mentors – right from the beginning of my career. And if you are mentored well, you want to do it for others," she says. "That nurse who cared for me when I was a young girl was my night supervisor when I worked at the Regina Hospital Emergency Department. It gives me goosebumps to talk about it."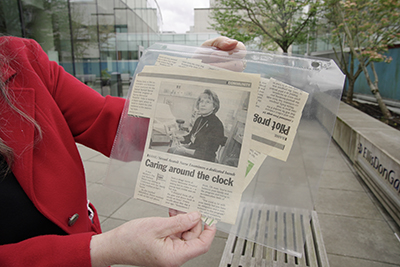 When it comes to legacy, Sheila is more focused on the future of forensic nursing than her own.
"How can we get this specialization recognized nationally? And globally? When I'm no longer here, I want there to be a place where forensic nurses can connect and get the right resources."
And as much of an impact as she has had on others, it has been reciprocated on her end.
"The rewards for me have been from the patients that I've cared for and the students that I've taught and mentored."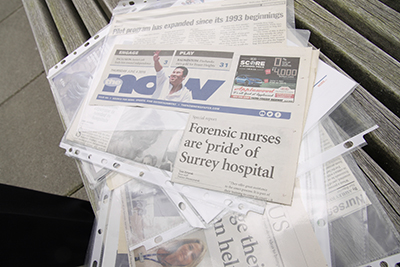 This year marks 30 years since the founding of the Sexual Assault Nurse Examiner program in B.C. Sheila will be honoured by staff at the Embrace Clinic and Forsensic Nursing Service at Surrey Memorial Hospital as a celebration for Nursing Week where she will donate artwork in recognition of the patients they serve.