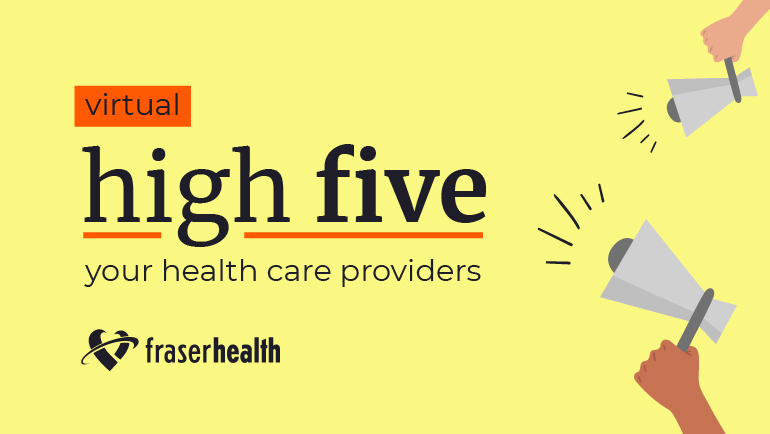 This week's high fives go to our amazing people at Abbotsford Regional, Chilliwack General, Langley Memorial, Peace Arch and Surrey Memorial hospitals.
Want to send a high five to your health care provider or Fraser Health team member? Leave a comment below or send us your story here.
---
For Chilliwack General Hospital
A final thanks from our family to the amazing staff at Chilliwack General Hospital who took care of my grandmother in her last few weeks of life. She was meant to pass within a few days and held on for three (very long) weeks. We were all cared for so well and with so much kindness. She was treated with complete dignity and respect. Even when she wasn't conscious, everyone who approached her spoke with her and let her know what they were doing as they were administering meds or changing bandages. I thought you'd like to know that we ensured the hospital was mentioned in her obituary. I also dropped a card off to the absolutely stellar nurses and patient care coordinator on the fifth floor.
---
For Surrey Memorial Hospital
I had a minor surgery and want to compliment the staff of the pre-operative, operating room and post-operative departments. All the staff I encountered were very kind, professional, thorough and receptive to questions and concerns. Given the incredible, ongoing challenges of the pandemic for all health care workers, I was so impressed and gratified by the excellent care I received. Thank you.
---
For Peace Arch Hospital
I would like to say that my experience with the day care preparation staff and surgical team was exceptional. Day care staff members, MJ and Joni, truly went out of their way to make me comfortable and informed during my visit and I could see they were doing that for all of the patients there. They are doing an exceptional job and should be commended.
---
For Abbotsford Regional Hospital
I was admitted to the emergency department with what I suspected was a possible stroke. The attention, care and professionalism of all staff I interacted with was the most comforting thing a scared patient could hope for. I would like to thank you for all that you did for me.
---
For Langley Memorial Hospital
The care I received from all the surgical day care staff was awesome. I cannot remember the names of everyone I interacted with but they were friendly, caring and professional. The nurse, Holly, in recovery that admitted me was super and was interested in my running hobby. She listened while [I] talked her ear off and she ensured I was breathing properly. Please pass my thanks along to all the staff.
---
I was admitted to Langley Memorial Hospital. The staff in the emergency department were great. Then I was moved to 1 North. The staff in 1 North went above and beyond in their service for all patients, especially me. I want to make sure that all staff are awarded for excellence in service. Some of the names I remember are Dr. Dhami, Lulu, Tina, unit clerk, Satwinder, and all day and night staff.