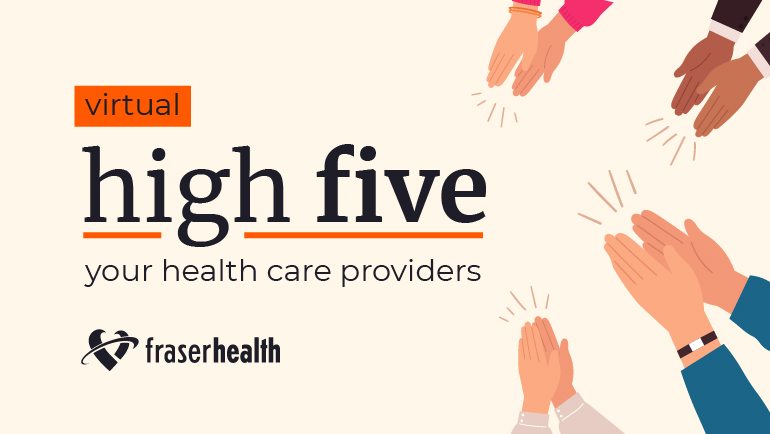 This week's high fives go out to our amazing staff at Ridge Meadows Urgent and Primary Care Centre, Royal Columbian Hospital, Abbotsford Regional Hospital and Chilliwack General Hospital.
Want to send a high five to your health care provider or Fraser Health team member? Leave a comment below or send your thanks using our online submission form. Read more kudos at fraserhealth.ca/highfive.
---
For Ridge Meadows Urgent and Primary Care Centre
For the chronic pain and disease team: Josh, occupational therapist; Paulina, physiotherapist; MaryAnne, social services; Ivy and Amanda, dieticians. I am so grateful for the caring and respectful people you are. I arrived scared, fearful and unsure about what was ahead of me. Each one of you, in your own way, created a safe space to be vulnerable. I believe without your awesome team I would be in a downward spiral, so thank you for being the best.
---
For Royal Columbian Hospital
I left the emergency department with a casted foot. Two staff were walking up carrying pizza and sodas. Without hesitation, they quickly offered to help me get into my friend's vehicle. I couldn't touch the ground with my casted foot and my good leg was weak from a recent hip replacement. They literally had to lift me in. I am so grateful for their kindness. They made my day.
---
I would like to send my entire family's sincerest gratitude to the emergency department team at the Royal Columbian Hospital. Please share with your senior leadership as appropriate.
My father was admitted and the care we received was exceptional. We sadly did not receive the news we were hoping for in terms of my father's diagnosis and plan moving forward, but despite that, it was the positive experience that will always stay with us. I feel so fortunate to have observed the following myself.
Emergency department team:
Nurses Sally and Lauren are beyond amazing. There were a few times where my father was irritable, confused, and not very "patient" but both Sally and Lauren treated him with such kindness and compassion. Even when he pulled his IVs out in frustration, they showed empathy and the highest level of understanding for someone that was confused and in pain.
Gary and Anna, this is a testament to your leadership. Whenever the nursing team needed help, it was apparent that you have built a culture of collaboration, support and trust among the team. The group of nurses all worked together to ensure their patients are receiving the best care. I observed another patient who was exhibiting aggressive behaviours and while the team supported him, they also knew exactly what to do to get help from your security team. This again highlighted for me that their leaders have given them the right tools to do their jobs in a safe work environment.
2N Cardiology:
I did not get the chance to get the manager's name but on the cardiology unit, nurses Puneet and Marlan were also amazing.
Physicians:
Last but not least, each one of the physicians was incredibly kind and patient with us. I missed noting down the emergency department physician's name but he was brilliant and very compassionate. Dr. Epstein, Dr. Vo and Dr. Latham recognized that this was a difficult time for us. Each of them took the time to ensure that we understood the diagnosis and agreed to the care plan. Please accept my gratitude as a daughter and especially as a fellow health care worker. The past two years have been so tough on our teams but the Royal Columbian Hospital should be so proud of the work their teams do and the way they do it. Keep up the amazing work.
---
For Abbotsford Regional Hospital
I am a senior, 82 years of age with a history of chronic obstructive pulmonary disease and cancer. I was admitted to the emergency department at Abbotsford Regional Hospital, undergoing breathing distress. The doctor on duty, Dr. Yatscoff, managed to order three different blood tests, an x-ray, consult with myself and my wife, make himself familiar with my symptoms and diagnosis, administer medications along with advice and prescriptions - and all of this in less than four hours. Now why I am really writing this is because of what happened next. A couple of days following my discharge Dr. Yatscoff called me at home to inquire as to how I was doing and to see if I was responding well to the prescribed medication. I would call this above and beyond the call of duty and I would appreciate it greatly if you would convey my heartfelt appreciation to Dr. Yatscoff for his dedication.
---
For Chilliwack General Hospital
My mom had dementia and heart failure and my sisters and I were caring for her in her home. She deteriorated and I called an ambulance to bring her to Chilliwack General Hospital. Every single person we encountered in the emergency department was welcoming, compassionate and listened to what we had to say. We asked that she be made comfortable and not treated aggressively. The staff moved mom into a single room in the emergency department and allowed all of her family to be with her. The geriatric nurse was absolutely amazing. We so appreciated her advocacy and knowledge. I believe her name was Cory. My mom died a beautiful and peaceful death in the emergency department. Kudos to your staff. Patient-centred care in action.