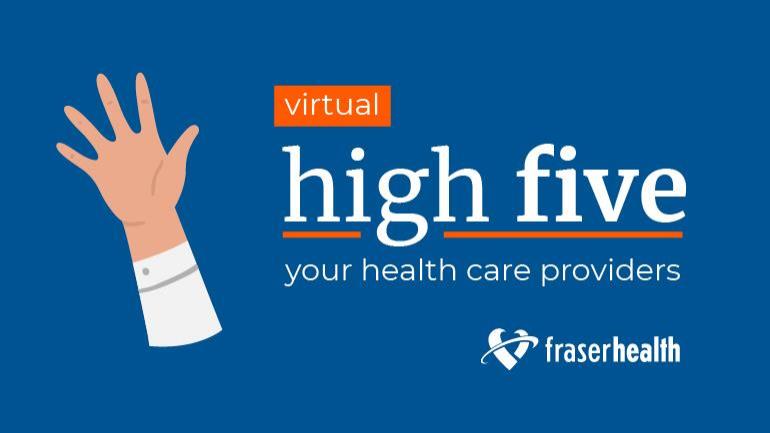 This week's high fives go to our amazing people at Langley Memorial Hospital, Cottage-Worthington Pavilion, Abbotsford Regional Hospital, Eagle Ridge Hospital, Royal Columbian Hospital, Burnaby Hospital and Surrey Memorial Hospital.
Want to send a high five to your health care provider or Fraser Health team member? Leave a comment below or send your thanks using our online submission form. Read more kudos at fraserhealth.ca/highfive.
---
For Langley Memorial Hospital
Thank you to the staff at Langley Memorial. With your professionalism and guidance, our son was delivered quickly and we as parents felt well informed and cared for every step of the way. Throughout the entire pregnancy and labour, we were grateful to be at Langley Memorial. From the maternity clinic, to the delivery ward, care staff and food staff, thank you.
---
I would just like to give a very big thank you all of the nurses, doctors and staff that helped me. I was given immediate medical attention and after a CT scan and bloodwork, I was quickly given a diagnosis. I was very well taken care of by everyone. Thank you, I really appreciate what was done for me.
---
For Cottage-Worthington Pavilion, long-term care home
My mother was a resident at the cottage for approximately 16 months. I would like to thank all the staff for creating a safe, respectful and caring environment. They generously gave their hearts to the care of not just my mom, but all the residents there. This facility is indeed a home, and the staff family. So, on behalf of our family, thank you all.
---
For Abbotsford Regional Hospital
I had surgery at Abbotsford Regional Hospital. The emergency room staff, doctors and the nurses were all amazing. Thank you again for the great care.
---
For Eagle Ridge Hospital
Thank you to Dorota, the most wonderful greeter/volunteer in the emergency department. My wife came in with a severe allergic reaction, and she treated us with kindness, care and compassion. After being treated, my wife remembered your kindness and compassion even in her worst health crisis, as did I. Thank you again.
---
For Eagle Ridge and Royal Columbian Hospital
As a first-time mother with delivery fears, I was very impressed by the care I received at Royal Columbian Hospital and Eagle Ridge Hospital Maternity. All the nurses were angels and Dr. Buie was an excellent coach who helped me through the entire process. I will never forget the kindness I received from everyone. Thank you.
---
For Royal Columbian Hospital
I'm a first-time mom who delivered at Royal Columbian Hospital. Throughout my stay, I received the best care I have experienced ... I really want to thank all the staff in the maternity unit for their kindness, from Nurse Louisa, who admitted me and coached me through my labour, to Nurse Harmeet who stayed by my side during delivery, to all the nurses who kept checking in on me late at night. A huge thank you to Dr. Buie and her team. I would also like to thank the anaesthesiologist on call that day for their swift administration of an epidural. It may have been just another day for you, but I'm not exaggerating when I say it probably saved my life. As an immigrant who's never lived in a country with public health services before, I recognize and value your hard work.
---
I would like to offer exceptional commendation to the nurses in the inpatient psychiatric unit. They understood my condition well and encouraged me to use the "staff assist" button for help. Thank you for assisting me.
---
I gave birth to my son in Royal Columbian Hospital. It was my first experience in a Canadian hospital. I cannot express how impressed I was with the service and the care. Thank you to all the nurses and doctors.
---
For Burnaby Hospital
Thank you to Nurse Ryan for the excellent care he provided during my hospital visit. He was very personable, kind and took the time to have a word with me after surgery which was extraordinary. Please pass on my gratitude.
---
For Surrey Memorial Hospital
Being diagnosed with cancer and taking chemotherapy and radiation can be very frightening. However, from the very first day of treatment, the front desk staff Dessa and Robbie were wonderful. They were friendly, polite and very caring individuals. We were immediately at ease. They are the highlight of our day. Treatment is less stressful with these two, thank you.
---
I wanted to thank the excellent care team in labour and delivery for a supportive, collaborative birthing experience. The attending nurses and physicians were informative, honest, consent-focused and communicative with me and each other. I felt well taken care of and I felt that I was being provided the best options and care possible. I am deeply grateful to you all.
---
Thank you to Dr. Sabados and the caring nurses who took care of my mother. Your kindness, compassion and professionalism were exemplary. You both made a delicate situation less stressful. Dr. Sabados's calm manner and humour helped ease my anxiety. They are truly remarkable at their jobs. Thank you.
---
Thank you to Dr. Golden who treated me in the emergency department. I'm thankful for his dedication and his successful treatment options. Thank you so much.