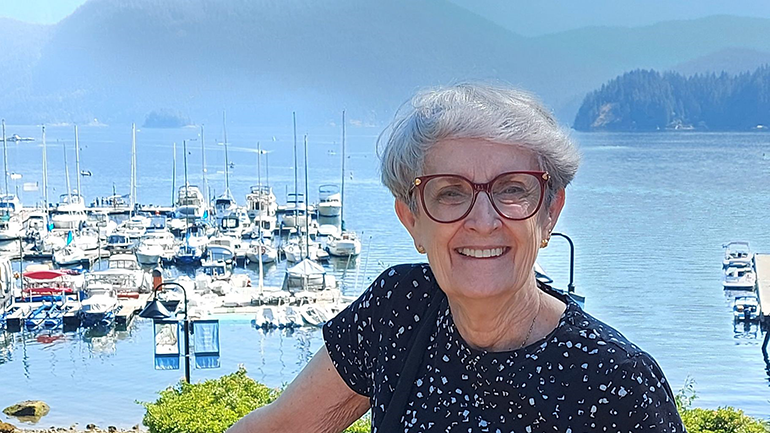 Increased collaboration, communication and education with Fraser Health long-term care services are top priorities of long-term care councils.
(Photo) Catherine Youngren, co-chair, Fraser Health Regional Resident and Family Advisory Committee.
Catherine Youngren, co-chair of Fraser Health's Regional Resident and Family Advisory Committee, first became involved with long-term care projects as a commercial interior designer.
"I worked in the design field for five decades," she says. "And for the last two, I focused on specialized seniors care projects. My interest in this area further deepened when my family members began entering care, which was very hard – but harder still when it was my husband."
It was through this transition that she was introduced to the family council at her husband's home – Foyer Maillard, a Fraser Health-affiliated partner site.
"The director of recreation and volunteers brought forward the idea of establishing a council – one that could work in partnership with the resident council," she says. "I joined because it was an opportunity to provide feedback around residents' daily needs, activities – in particular for those residents who were unable to articulate their own opinions or concerns."
For Catherine, the impact of being a member of the council and their collective work has been invaluable. She believes this is a direct result of the understanding and empathy shared between council members and with onsite leadership and staff.
"Councils can provide a safe open environment for families to express their concerns and for management to directly respond," she says. "Families gain an immediate understanding of care processes and policies – why or why not certain suggestions are implemented – while management can give and receive direct feedback. From there, families and leadership work together to think 'outside of the box' and creatively solve problems.
Over the course of her tenure on the Foyer Maillard family council, Catherine and her fellow members have partnered on a variety of requests, including more visitor parking options and improving hairdressing services for men.
"We've also partnered together on staff appreciation BBQs, organized Christmas bazaars, Thanksgiving and Easter dinners and held fundraisers for items such as more towel and blanket warmers."
Earlier this month, the Government of B.C. announced strengthened support for resident and family councils in long-term care homes across the province – a boon to the on-going work of Catherine and other councils around the province.
The goal is to ensure a greater voice for residents and their families, and strengthen the partnerships between councils, the Ministry of Health, health authorities and long-term care operators.
"Fraser Health is very well-positioned to respond to this provincial direction," says Susan Brown, director, Quality and Research with the Integrated Long-Term Care and Assisted Living team. "Currently there are 85 resident and family councils operating out of 111 care communities in our region. Our collective goal is 100 per cent of our care communities to be operating a council by 2025."
Through their work, resident and family council partners also provide important insight to Fraser Health leadership.
"Our region's councils were instrumental in the creation of a toolkit to help other care communities set up councils," says Susan. "They continue to help in the development of resident experience surveys, and are active participants in on-going research efforts aimed at increasing the comfort, care and connection of all residents in our communities – the cornerstone of our team's strategic plan."
As part of the work connected to the Province's announcement, Fraser Health will be establishing regional advisory representatives, to reflect the care communities of Fraser Health's different geographic regions.
"We did launch an overarching Regional Resident and Family Advisory Committee in February 2022," says Susan. "Its goal is to increase collaboration, communication and education across all councils and Fraser Health long-term care services. These representatives – representing the Fraser East, South and North regions – will take the good work and feedback being done at the individual care community councils, and bring it to the larger regional committee and to our clinical teams."
When Catherine was asked to co-chair the regional committee, she eagerly accepted, and she looks forward to seeing increased opportunities for family members to actively engage in the care of their loved ones.
"To have the ability, post-retirement, to continue to advocate for improvements to the long-term care system, and to provide value through lived experience is very fulfilling," says Catherine. "I have tremendous admiration for the various Fraser Health leaders and team members I have met so far."