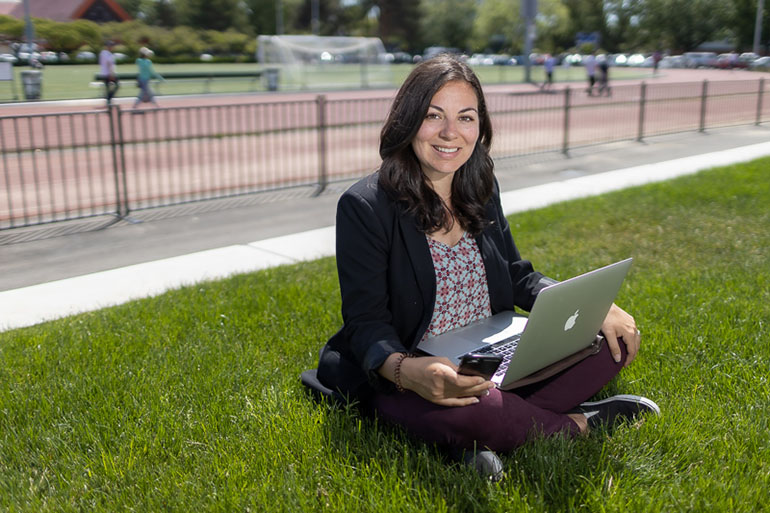 Moving health care services online so quickly to protect those most at risk of infection and prevent transmission of COVID-19 made it difficult to thoroughly evaluate and research virtual care in the Fraser Health
Now, that research is moving forward, thanks to a three-year, $500,000 grant from the Health Research Foundation of Innovative Medicines Canada.
The Research Team Grant in Virtual Care will enable Fraser Health, in partnership with researchers from Simon Fraser University and the University of British Columbia, to identify innovative ways to communicate virtually with older adults, particularly those with lower socioeconomic status, ethnic minorities and those with disabilities.
The research project titled: Get the Message? Improving Access to Virtual Healthcare for Older Adults will focus on three types of messaging used to connect health care providers to older patients: text messaging, emails, and in-app messaging. Known broadly as "patient-provider messaging," these virtual health solutions can help improve access to care, reduce risk of disease transmission, and help people stay in their homes and out of hospital.
"As we expand our virtual services in the Fraser Health region, we want to ensure groups that are underrepresented in the planning and rollout have a voice," says Dr. Megan MacPherson, Regional Practice Lead for Research and Knowledge Translation for Virtual Health at Fraser Health. "This grant will afford us the opportunity to address the 'digital divide' – that is, who is and isn't accessing our virtual services and how we can better serve underrepresented people in our region."
The research team will examine mobile phone ownership, usage, preferences, internet access, and e-health literacy among older adults who access primary care. While many older Canadians now have access to mobile phones, little information is known about their usage, preferences, and potential limitations (e.g., internet access may be limited for many marginalized populations).
Researchers will interview older adults in the region, including residents of long-term care, family caregivers, volunteers, and staff in care homes.
"Digital transformation is foundational to the delivery of health services now and in the future," says Dr. Victoria Lee, president and CEO, Fraser Health. "The Research Team Grant in Virtual Care will enable our virtual teams to build on the innovative gains we've made and to ensure that we provide equitable care to the residents in our region.
Since 2019, Fraser Health has logged more than 1.8 million virtual visits, with 1.6 million occurring since January 1, 2020.
Research team and research users:
Megan MacPherson, Lillian Hung; Kirsten Rossiter; Sherin Jamal; Robert Paquin; Janice Sorensen; Richard Lester; Akber Mithani; Valorie Crook
Research Users: Maria Montenegro; Christy Boyce; Long-term Care and Assisted Living Research Partners Group; Emily Carpenter; Suzanne Fox; Joelle Pellegrin; Sarah Siebert
Learn more:
Fraser Health Virtual Care: https://www.fraserhealth.ca/patients-and-visitors/fraser-health-virtual-care#.Y2VdhffMI2w
Virtual Health: https://www.fraserhealth.ca/patients-and-visitors/virtual-health#.Y2Vfy_fMI2w