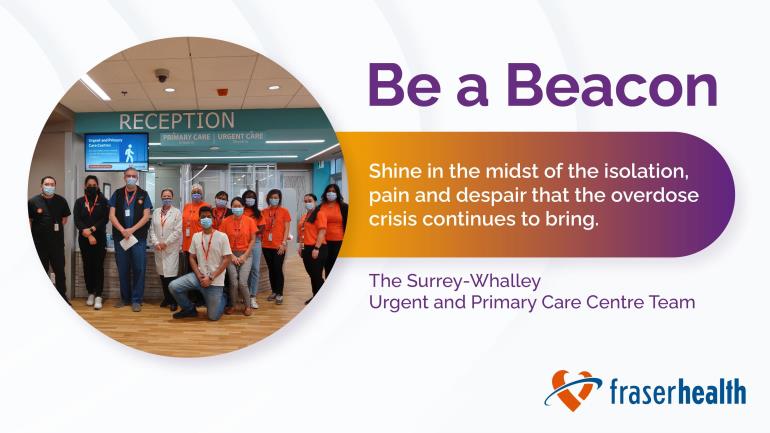 The Surrey-Whalley Urgent and Primary Care Centre health care team act as beacons for people who may be reluctant to receive care.
Ian Beeching, client care coordinator with the Surrey-Whalley Urgent and Primary Care Centre, works every day to support clients from a variety of backgrounds, socioeconomic statuses and health care needs. Some of his clients are individuals who use substances.
"The focus of our clinic is to help them meet their medical needs," he says. "And the way we help people who have sometimes had negative experiences with care providers is to first build trust."
The trust that he and his team members build with patients is what enables them to collaborate together to meet a diversity of care needs, while also inviting patients to be active participants in their care.
"We've worked very hard to create an environment where people who are struggling with substance use feel welcome and safe," says Beeching. "They've often had a range of challenging life experiences and don't feel comfortable being physically present in our care settings. We're working to change that."
Ian and his team advocate for patients by looking beyond what they might immediately need, such as a dressing change for a wound. They help clients find resources and connect them to other health care and community services and supports.
"People often come in just to use the phone, and we offer them cereal bars, nutrition shakes and a warm, smiling face. It can really make a difference for them," Beeching says.
A staff member with an existing relationship with a client often acts as a bridge to another team member, who could support in a different way.
"Someone who has a relationship with the patient will first ensure they feel comfortable before connecting them with someone else. For instance, a social worker to support them with housing, the pharmacist to look into the medication they're taking or the doctor for wound care."
This ongoing and collaborative communication ensures the team has made it easier to partner with the Integrated Homelessness Action Teams and helps reduce emergency department visits.
Ian and his team are committed to providing consistency and safety for their patients. This includes ensuring the Surrey-Whalley Urgent and Primary Care Centre is a place where care needs are met without judgement, in an environment focused on cultural safety, humility, honesty and compassion – no matter where a patient finds themselves on their health care journey.
"I remember a client saying 'I feel like this is my home. It's kind of like a family here.'"
Learn more about supporting people who use substances by visiting fraserhealth.ca/overdose