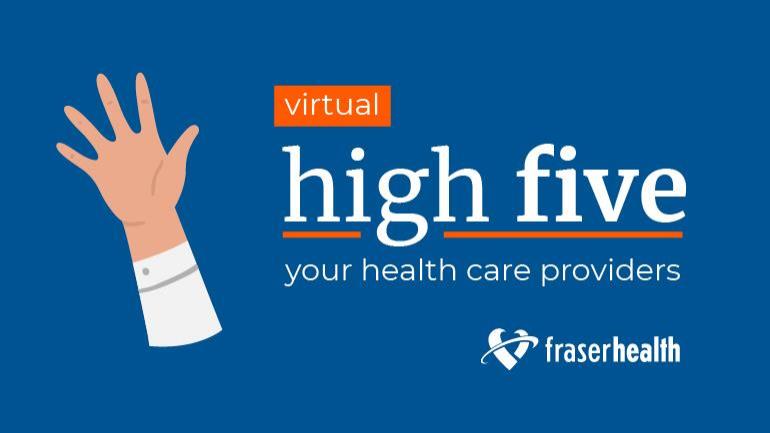 This week's high fives go to our amazing people at Burnaby Hospital, Delta Hospital, Jim Pattison Outpatient Care and Surgery Centre, Maple Ridge Urgent and Primary Care Centre, Ridge Meadows Hospital and Surrey Memorial Hospital.
Want to send a high five to your health care provider or Fraser Health team member? Leave a comment below or send your thanks using our online submission form. Read more kudos at fraserhealth.ca/highfive.
---
For Burnaby Hospital
I wanted to commend Nurse Alison who helped me throughout the medical surveillance process. I really appreciate what she does.
---
My wife gave birth and we stayed in the maternity ward for a few days. We encountered many nurses that were professional, respectful and helpful. A few nurses stood out from the crowd including Nurse Layla and Nurse Jenny, who were very helpful. Thank you.
---
For Delta Hospital
When I visited the lab at Delta Hospital, although it was quite busy, the level of cheer and helpful service was remarkable. Well done all of you. You made having blood taken almost a pleasant experience. Many thanks.
---
For Jim Pattison Outpatient Care and Surgery Centre
I wanted to thank the recovery team nurses for being very kind and well-organized. I saw them supporting each other in their work. I want to especially highlight Nurse Julie. I had a complication with my surgery and she identified it early and sought help immediately from other nurses and the physician. Thank you.
---
For Maple Ridge Urgent Primary Care Centre
I would just like to give a shout-out to Paulina, Josh and the rest of the staff involved in the chronic pain self-management program. The program was very professional and well thought-out. Learning and using some of the course talking points took me to a better place in my chronic pain journey. I would recommend it to anyone who has lost hope for a better life living in pain. Thank you.
---
For Ridge Meadows Hospital
Thank you to the staff. My wife got excellent help from everyone. In particular, Dr. Rughani was outstanding. He was the best dementia doctor that my wife has seen. He communicated with us in a way we could understand and answered our concerns. Thank you.
---
For Surrey Memorial Hospital
Thank you to the staff at Surrey Memorial Hospital, particularly Dr. Young, Dr. Leiva, Kim, Inder, Mandeep and many other wonderful nurses, as well as Taj, the registered therapists and the cleaning staff. All of you expressed such kindness, compassion, empathy and true professionalism as you poured your hearts and your skills into caring for my dad. You are all heroes. My gratitude overflows.
---
Unfortunately, my father passed away in the hospital. Throughout his whole journey, from the Emergency Room to the Cardiac Care Unit, he was treated with respect and dignity. My family would like to say thank you to Megan, Lila, Nav, Krystal, Harman and all who cared for him. Your compassion was appreciated.
---