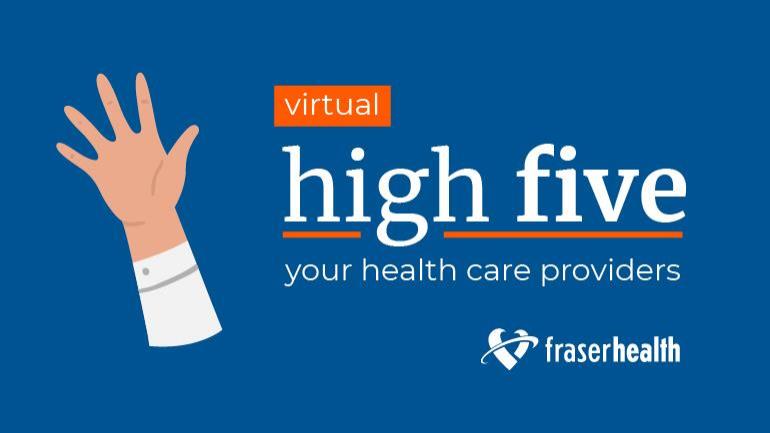 This week's high fives go to our amazing people at Chilliwack General Hospital, Eagle Ridge Hospital, Newport Public Health Unit, Royal Columbian Hospital and Surrey Memorial Hospital.
Want to send a high five to your health care provider or Fraser Health team member? Leave a comment below or send your thanks using our online submission form. Read more kudos at fraserhealth.ca/highfive.
---
For Chilliwack General Hospital
Thank you to all the staff, they are truly kind and caring people.
---
For Eagle Ridge Hospital
I would like to pass along my thanks to all the operating and recovery room staff for their excellent care during my gall bladder operation. Thank you so much.
---
For Newport Public Health Unit
I just want to give kudos to Nurse Shelley. My daughter was afraid to get her second COVID-19 vaccine but Nurse Shelley kept calm and got us in and out as quickly as possible. Thank you Shelley! Public health nurses truly are the best.
---
For Royal Columbian Hospital
The kindness, professionalism and care from everybody was wonderful ... they are providing exemplary care. It is appreciated. Thank you all.
---
For Surrey Memorial Hospital
A huge shout out to the MRI staff. They were incredibly friendly and made me feel calm. They took their time and were patient with me throughout the procedure. Thank you.
---
We would like to thank all of the staff who went above and beyond to take care of my mom during her stay at Surrey Memorial Hospital. She received excellent and exceptional care by all the nurses. She wants to express her gratitude to all staff especially nurses Davinder, Rupinder, Subitha, Nagmeh, Zeryl, Sukh and all other staff. Thank you for everything.
---
Our mom received exceptional care and support from hospital staff. Thanks for being supportive, compassionate and always available to help my mom and keeping our family updated. Our mother is very thankful to all nurses.