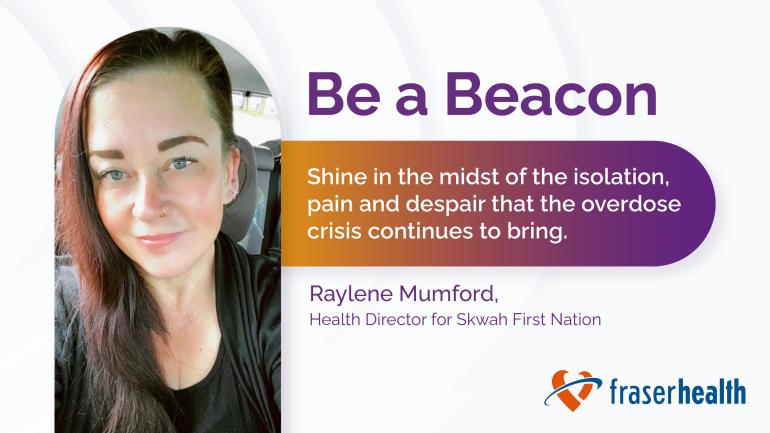 Skwah First Nation's health director Raylene Mumford acts as a beacon in her community to help end stigma around substance use. She wants you to know that you can, too.
Raylene Mumford, health director for Skwah First Nation, believes that being a beacon means acting as a guiding light for people who use substances. It also means inspiring others to treat everyone – no matter their life story – with humanity.
"Give a smile, make eye contact, keep fighting the good fight and understand that people are trying to do their best," she says.
Raylene works tirelessly to ensure that persons with lived and living experience of mental health and substance use challenges, along with members of their community, get the culturally safe, judgement-free support that they need.
"If we are going to be there for people, we have to focus on building relationships and trust. We meet people where they are at – with sincerity," says Raylene.
Her role oversees the coordination of physicians, Fraser Health nurses and other allied health staff in her community, along with the provision of food and additional health care support.
She and her team incorporate both western and Indigenous cultural values and approaches to care into their work, ensuring anyone seeking support will receive what they need, in a safe and welcoming space.
Rayleen is also a big believer in combatting structural poverty. She runs a free store in her community that feeds over 80 families in hers and neighbouring villages. With the help of Guru Nanak's free kitchen, fresh-cooked meals are served to over 300 local families every Sunday.
"Indigenous and non-Indigenous people meet and eat and it's zero barrier," Rayleen says. "I couldn't love this community more."
Raylene understands that in her role "little ripples make big waves."
"All the little parts are much more important than the big parts," she says.
Along with her clinical coordination work, Raylene also runs a self-esteem program for youth, an elders program, Halq'eméylem language classes and is a registered end-of-life doula. She is currently working on two novels that tell personal stories of people affected by the toxic drug crisis.
"The stories feature people who didn't make it. They are the reason for the work I and others do," says Raylene.
"Raylene is a living, breathing testament that it doesn't take huge grand gestures to make a difference in preventing overdoses. Consistent warm and inviting engagement is something we all can do each day to help people who use substances feel a sense of belonging and worth," says Marika Sandrelli, knowledge exchange leader for Fraser Health's Mental Health and Substance Use services.
Raylene embodies the role of a beacon through meaningful connection and an unrelenting desire to be of service to her community.
"We need to go back to some of the basics of relationships. We have to start thinking of our community as all of our children, all of our family – our chosen brothers and sisters."
In honour of International Overdose Awareness Day, Fraser Health is profiling mental health and substance use beacons throughout our communities.
Learn more about preventing toxic drug injury and death by visiting fraserhealth.ca/overdose