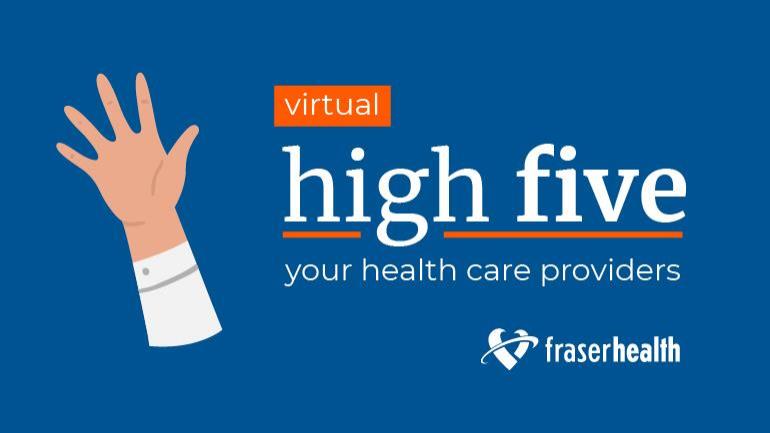 This week's high fives go to our amazing people at Abbotsford Regional Hospital, Burnaby Hospital, Delta Hospital, Eagle Ridge Hospital, Jim Pattison Outpatient Care and Surgery Centre, Langley Memorial Hospital, Peace Arch Hospital, Ridge Meadows Hospital, Royal Columbian Hospital, Surrey Memorial Hospital and the Tri-Cities Public Health Unit.
Want to send a high five to your health care provider or Fraser Health team member? Leave a comment below or send your thanks using our online submission form. Read more kudos at fraserhealth.ca/highfive.
---
For Abbotsford Regional Hospital
I was scheduled for a breast biopsy; I didn't know what to expect. The receptionist I saw was friendly and greeted me. Thank you to my ultrasound technician Cheryl and Dr. Vessey, who did the procedure. Both were kind, patient and clearly outlined the procedure while ensuring my comfort. My stress levels were greatly reduced and I am so thankful for their kindness and care.
---
I wish to thank all the staff at Abbotsford Regional Hospital that looked after me during my stay. Thank you to all.
---
My sister was admitted to the intensive care unit and later passed away. We were so impressed with the high quality of care she received. I would like to compliment Dr. Ahmed, Miho, Candice, Ramen and Cara for their superb support that they provided not only my sister but also my family. Their care was outstanding. Thank you for being so wonderful.
---
My son and I attended the Emergency Room with a broken arm, and I can say, without hesitation, the care of every staff member was exceptional. We attended today again in the cast clinic for follow up and again were greeted with exceptional care from beginning to end. Everyone was helpful, caring, informative, thoughtful and efficient. Much appreciated.
---
I wish to thank all in Abbotsford Hospital who assisted me when I arrived at the hospital with a bad gash on my head. I am from Ireland and was staying with my daughter at the time. The treatment I received was excellent and everyone was very friendly and helpful. Many thanks again.
---
I wanted to send a thank you on behalf of my family for the care provided to my mother at the end of her life. We had so many wonderful nurses who supported my mom and our family. A special thank you to Leah and Kim who went above and beyond to provide care and answered any questions we had. Having staff like Kim and Leah makes difficult times much easier. Thank you.
---
For Burnaby Hospital
I just got home from the hospital after having same-day hip replacement. Everyone was fantastic. From operating room nurses, anesthesia and my awesome nurse Sanoo. Of course an awesome job by Dr. Viskontas. I'm deeply indebted for their kindness, care and professionalism. Thank you so much.
---
Thank you to Dr. Kostamo, office staff, nerve block staff and nurses at Burnaby Hospital. I had great success with my knee replacement and am now two months post-operation. Dr. Kostamo and all clinical staff were professional as can be. The knee clinic is truly a professionally run organization. Exceptional people, exceptional work.
---
Wonderful care and service for my 94-year-old father in the Emergency and Intensive Care Unit. Wonderful doctors, nurses and staff. My father ended up passing away, but the overall care and service by everyone was caring, compassionate and wonderful.
---
For Delta Hospital
I would like to acknowledge the wonderful care I received in surgical day care. The nurses were so attentive and caring from the minute I arrived to the minute I was discharged. I would also like to acknowledge the surgery staff who explained to me what to expect going in and coming out of surgery. My anesthesiologist Dr. Mask was amazing, as was Dr. Yao. Thank you all.
---
For Eagle Ridge Hospital
I would like to thank the emergency room staff that provided care for my son, who is a person with disabilities. From the entry nurse, admitting nurse, the nurses that took his blood samples and finally, Dr. Wormsbecker. Thank you to the nurses and doctors who taught us how to properly use the inhalers. We felt heard, listened to and cared for.
---
I was seen by Dr. Toews, who stitched up a cut in my hand in the Emergency Department. Even though she was busy with other patients and responsibilities, she remained calm, kind and very efficient. I was nervous about the stitches and she talked me through it like a true professional. I am so thankful.
---
I would like to thank Paulina and Sabina for their kindness and care. Their positive attitude is so appreciated. The whole atmosphere in the surgical unit was so positive, which helped make our experience all the more better. Thank you.
---
Dr. Hakobyan was very thoughtful and holistic in his recommendations for my daughter. We feel very fortunate to have had such care in an urgent setting.
---
For Eagle Ridge Hospital and Royal Columbian Hospital
I wish to thank the doctors and nurses that provided me with medical care. Thanks to the medical attention I received, I am alive and well today, recovering. I was transferred to Royal Columbian Hospital and had surgery for an aneurysm and heart surgery. Thank you to everyone involved. You saved my life.
---
For Jim Pattison Outpatient Care and Surgical Centre
A special thank you to Dr. Janzen and the entire staff at the Breast Health Clinic at Jim Pattison Outpatient Care and Surgical Centre for their incredible care. I had an issue that was not detected on mammogram, ultrasound or MRI but was found during surgery because of the expertise of Dr. Janzen. This Breast Health Clinic is one of the most efficiently run clinics I have ever seen and should be the gold standard for all such clinics.
---
For Langley Memorial Hospital
I would like to thank the medical imaging technician Li for her professional care and support. She explained absolutely everything in real and reassuring terms and her humour and demeanour was so calming and reassuring. This was a very stressful procedure for me but Li made it more than tolerable. I am very grateful for her.
---
I'm thankful to the team at Langley Memorial Hospital for taking care of my appendectomy so quickly and professionally. It was a tough couple days for me but you all helped make it as pleasant as possible. Thank you.
---
I brought my daughter to the Emergency Room. All the staff were very helpful, especially Sarah. Sarah was kind, funny and caring. She definitely went above and beyond, including giving warm blankets to elderly folks in the waiting room. We appreciate her.
---
For Peace Arch Hospital
I would like to acknowledge the efficiency of the Peace Arch Hospital Emergency Department. Everything was efficient and I was attended to quickly. I would also like to acknowledge Dr. Vrenko who was efficient in ordering diagnostics in time for my upcoming appointment that week. Thank you.
---
I had a minor day surgery at Peace Arch [Hospital] and the staff was incredible. They were all so kind, warm and caring. Deep and Joni were so helpful before I went into surgery. Dr. Forbes, Nicole the surgical nurse and the anesthesiologist were also so kind and lovely. All the staff in post-surgical care were amazing as well. Thank you all so much.
---
For Ridge Meadows Hospital
I would like to take this opportunity to thank the doctors and nurses who treated me during my stay at Ridge Meadows Hospital. Dr. Wright, his staff and the nurses on day surgery and the operating room have been absolutely polite and professional. Dr. Wright has attended my needs in an extremely quick time frame. Thank all for their hard work.
---
Excellent, empathetic care given by both staff and Dr. Pater. Thank goodness for this facility.
---
For Royal Columbian Hospital
I suffered a severe anaphylactic reaction at the respiratory care centre at Royal Columbian Hospital and had to go to the emergency. Compliments to Ardeep the respiratory attendant, Dr. Marchand and Dr. Chung who took the time to coordinate with my lung transplant team at Vancouver General Hospital to ensure I received the correct care. You saved my life, thank you.
---
I want to thank the staff in the intensive care unit for their care of my brother. Their dedication to my brother's health needs is much appreciated by our family. Thank you so much from the bottom of our hearts.
---
Thank you for all the care that you have given me over this period. You have made sure that I was given the best care available. My family and I sincerely thank you for your compassionate attention and professional care. Thank you for devoting all the effort needed in saving my life. There are not enough words for myself and my family to express our appreciation. We are exceedingly satisfied with your professionalism and commitment to excellent medical care. Although I have yet to completely recover from my illness, I just wanted all of you to know that I am seeing great improvement. Thanks again for everything and I am blessed to have amazing doctors like you guys in my life. Lastly, wish the best luck to all of you with all my heart.
---
In the early morning, I took my husband to the hospital. He had woken up very ill and we were uncertain about what was wrong. We were treated very well and had hardly any delay in being seen. Medical student Riley and Dr. Pearlly were very kind to us and provided a diagnosis. We were soon released with a prescription and a referral. Compliments to all there.
---
I just wanted to praise Nurse Kelly working in the Emergency Room for her amazing nurse-to-patient relationship. She values everybody there as if they were her own child. She really takes care of you and it shows. She made me feel comfortable when I was in the Emergency Room last week. She's working really hard and making a difference in the community by showing so much compassion.
---
For Surrey Memorial Hospital
The staff in the Emergency Department were amazing.
---
It was my first time experiencing a stay in hospital with my father. I can confidently and happily say that Surrey Memorial Hospital has the best people. The amount of effort they put into their job and patient care is extraordinary. I am impressed by each and every member of the team.
---
Recently I was at Surrey Memorial Hospital for surgery. I had excellent service during my surgery performed by Dr. Brown who is one of the best surgeons and helped reassure my fears. I ended up in Emergency where everyone from interns and hard-working nurses looked after me. I salute Dr. Sohal who quickly figured out my issue.
---
For the Tri-Cities Public Health Unit
Huge thanks to the team at the Tri-Cities Public Health Unit for providing my son's COVID-19 booster today. Everyone we interacted with was helpful and so positive. I am so grateful to have access to the vaccine for my child.
---