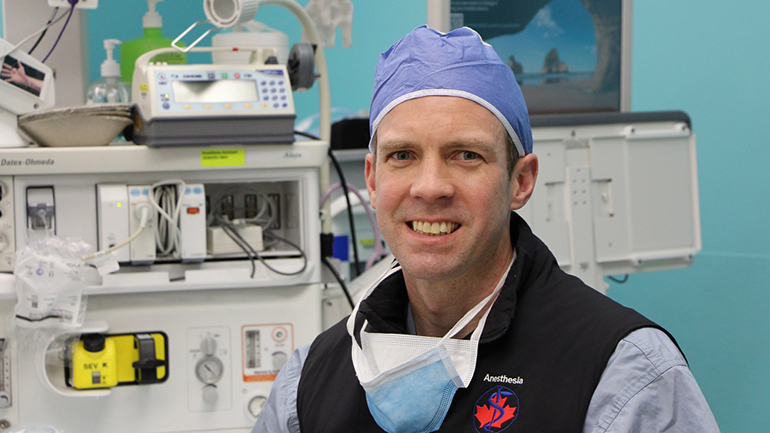 Meet Dr. Brady Warnick, an anesthesiologist at Royal Columbian Hospital and learn about how he helped plan the operating rooms for the new acute care tower.
For Dr. Brady Warnick, an anesthesiologist at Royal Columbian Hospital, helping to plan the operating rooms (ORs) for the new Royal Columbian Hospital acute care tower was a natural next step in his career. In addition to his 10 years of clinical experience at Royal Columbian Hospital as a physician, Warnick was previously an engineer.
"I'm a mid-career physician, so I know what I like and if there are a few things I don't like, I have the opportunity to improve upon those," he says.
"Currently, every OR footprint is different," says Warnick. "Sometimes you're entering on the patient's left or the patient's right – sometimes at the head of the bed or the foot. With the new ORs, there's more uniformity so we can think about the ergonomics of one specific OR and try to duplicate that across all the spaces."
When the new acute care tower opens in 2025, the hospital will have three cardiac ORs, three hybrid ORs, 11 general ORs and eight interventional rooms. The ORs and interventional radiology and cardiac suites will be located on a surgical and interventional 'super floor' that will be connected to the existing hospital.
The hospital's 11 current ORs were built at various times over the past 30 years and were not created with today's equipment in mind. The new ORs will be larger to accommodate advanced technology, which will be integrated into the rooms resulting in better ergonomics for staff and clinicians and a better experience for patients.
To select the right equipment for the new tower, Warnick and his colleagues came up with a rating scale for each item on features such as the quality of images, design and ergonomics. Then they looked at the technology in detail before making any decisions. The new equipment will include a bi-plane suite with two rotating cameras for stroke treatment and neurosurgery, a CT-Angio suite, hybrid ORs with image-guided procedure machines and a cone beam CT scanner providing 3D images.
A new 'pre-post' area will allow patients to start and end their surgery experience in the same space so it is familiar to them. The ORs will also be closer to radiology and interventional cardiology so that staff and clinicians will be in the same location, and able to help one another when needed.
Last year, Warnick and some of his clinical colleagues had the chance to see a full-scale model of what the new ORs would look like and provide feedback on the design.
"We had a wonderful life-sized model and we all showed up to run scenarios to see what worked well and what could work better," says Warnick.
"It's great to have a chance to redesign everything from the ground up and think about how to optimize our operating rooms, both for the staff and patients," says Warnick.
Learn more about the project on our website.
Interested in working at Royal Columbian Hospital? Visit our careers page.