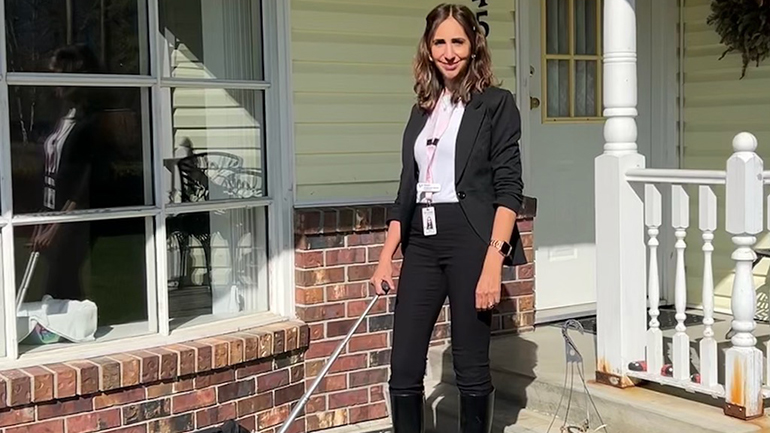 A dental hygienist with the Health Services for Community Living team provides oral care and education to clients who face barriers to accessing traditional dental services.
Dental Hygienist Nishi Lal-Birdi began her career working in private dental offices but felt called to do something more community-focused.
"I saw that there was a need for dental hygienists outside of private practice, so I applied to Fraser Health," she says.
Nishi was first hired to work at Queen's Park Care Centre in New Westminster, where she provided dental hygiene services to long-term care residents. Many of her clients had medical and mobility challenges that made it difficult for them to access a traditional dental office.
"It felt so rewarding to be able to serve a population that really needed access to oral care," she says. "Helping them achieve better oral health and therefore, better overall health – I absolutely loved it."
In her current role with the Health Services for Community Living team, Nishi supports adults with developmental disabilities living in Fraser Health communities. She works closely with an interdisciplinary team of dental professionals, occupational therapists, dietitians and nurses.
Equipped with a mobile dental hygiene bag, she visits clients in their homes or in home share settings and people participating in Fraser Health day programs.
"I provide oral consults and assessments and help clients develop individualized oral care plans. I also support my clients with system navigation and connection, so that they can access the right dental services in the community," she says.
Nishi also provides education on daily oral care and helps clients and caregivers understand the link between poor oral hygiene and other conditions such as heart disease, stroke, lung disease, diabetes and dementia.
"I aim to be as non-invasive as possible in my practice," Nishi says, "and a big part of my work is advocacy for my clients."
She recalls one client who had been advised that she would need a full extraction – where all of her teeth would be removed.
"To me that seemed drastic, so I set out to find out if there was anything else that could be done," she says.
Nishi talked with the client's support team and learned that she was still able to eat normally and was socially active in her community. Subsequently, she sought the opinion of a second dentist, who agreed that a full extraction was not required and some teeth could be saved.
"This story stays in my mind because many of my clients are not able to advocate for themselves," she says. "I am able to assess what's going on for them, make sure they or their caregiver are informed of their care plan and carry that information forward. Ultimately, it is about trying to integrate our clients in the community and give them the best quality of life," she says.
April 4-10 is National Dental Hygienist Week and a great opportunity to recognize the work that Fraser Health dental hygienists do to serve patients and clients in our communities, long-term care homes and public health units. To learn more about the work Fraser Health dental hygienists do, visit Oral health.