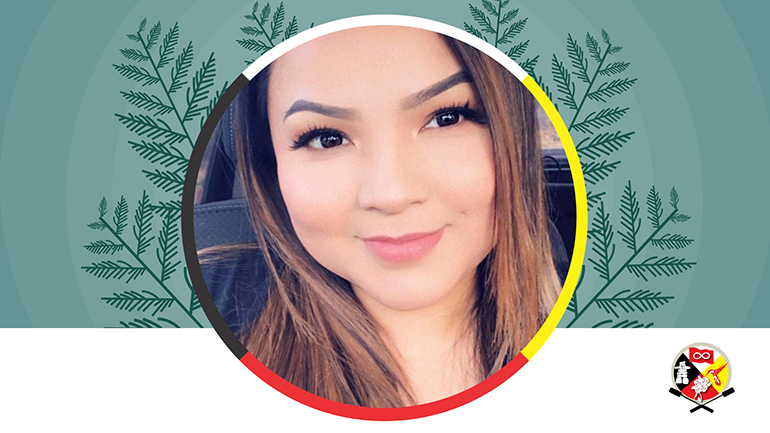 Ahead of B.C. Indigenous Nurses Day, Peggy Napope shares why she became a nurse and the gifts she brings to her role as an Indigenous health liaison.
Tansi, Hello

My name is Peggy Napope and I am an Indigenous health liaison and licensed practical nurse for Fraser Health. My role is to help provide a culturally safe experience for Indigenous clients. I am of Cree, Dakota and Métis descents and originally from Saskatchewan, Treaty 6 territory.

My role is important because I advocate for my clients, help them navigate the health care system, connect them to resources and refer them to cultural supports. Being an Indigenous health liaison is what I envisioned my nursing career to involve. I have always wanted to be an advocate for First Nations people.

I have faced discrimination within the health care system. I want to help others feel safe and cared for. Cultural safety means being aware of your own biases and questioning them. It means taking the initiative to learn the real history and educating oneself when not sure. It also means not being afraid to speak up against racism and discrimination.

I feel that I bring the gifts of compassion and empathy. I have been greatly impacted by colonialism and that experience helps me to be understanding with my clients.

I believe in the holistic approach to health and in the medicine wheel. I feel that health is more than just a western approach and that all aspects – mental, emotional, spiritual and physical well-being – make up an individual's wholeness. I also believe in traditional healing and traditional medicines.

B.C. Indigenous Nurses Day is important, especially in the spirit of reconciliation. Indigenous Peoples traditionally have healers and, in my experience, are called Medicine women or men. As well, there are not many Indigenous nurses in Canada, and it is a great accomplishment to honor them.

Hiy Hiy. (Thank you)

Monday, April 10, is B.C. Indigenous Nurses Day, which celebrates the contributions of Indigenous nurses to health and wellness. April 10 was chosen to celebrate Charlotte Edith Anderson Monture, who was born on that day in 1890 and was the first Indigenous woman in Canada to become a registered nurse.

At the time, most Canadian nursing programs excluded Indigenous women and the Indian Act was a significant barrier faced by Indigenous Peoples who wanted higher education. Edith graduated first in her nursing class at New York's New Rochelle Nursing School and was one of only a few Indigenous women to serve overseas during World War I with the United States Army Nurse Corps. She was also the first Indigenous woman to gain the right to vote in a Canadian federal election.

On April 11, there are two online events honouring Indigeneity in nursing: a webinar featuring reflections by Indigenous nurse leaders and a virtual grandparents' council. Learn more about them here.