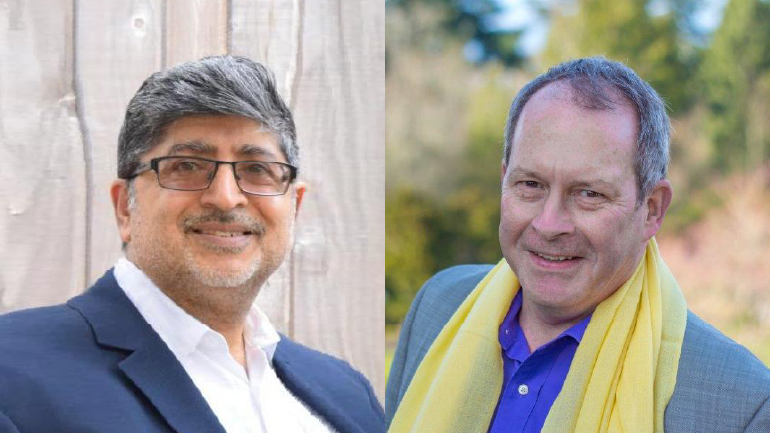 For Rafiq Bhimani and Darren Frew, their care experiences during significant health crises led them to help improve the health system for others.
Photo (from left to right): Rafiq Bhimani and Darren Frew, patient advisors
In 2013, Rafiq experienced a stroke that left him with severe paralysis, difficulty with word finding and communicating fluently as well as other significant, non-visible challenges. He received stroke and post-stroke seizure care from a range of Fraser Health programs and notes, "while my family and I were grateful for the care that I received, we also faced significant barriers and obstacles within the system. This led him to volunteer as a patient advisor.
Patient advisors can be patients or caregivers, and they share their perspective to inform Fraser Health practices and policies.
"I wanted better experiences for others who were dealing with health crises and challenges," Rafiq says. "I became passionate about wanting to collaborate with others to bring about change and improvement."
For Darren, life took a turn in 2019 when he was diagnosed with colon cancer– just nine years after his dad received the same news.
"[My dad] had spent his career as a respiratory therapist working in hospitals, so he had the perspective of being both a health care provider and a patient," Darren shares. "He prepared me really well." Darren recognized that not everybody has the benefit of someone like that in in their life.
This led him to begin volunteering with the Patient Voices Network and eventually as a patient advisor with Fraser Health. "I realized I actually can make a difference for people, and I'm glad to use the experiences I had to hopefully make the road easier for someone else," Darren says.
Both Rafiq and Darren have seen tangible changes because of feedback they have provided.
Rafiq credits his wife and other key family members for their support and advocacy during his recovery. Their experience spurred him to advocate for and advise how Fraser Health could update our policies and guidelines around visitation.
Darren shared his experiences with a working group that led to improvements in standardizing prescribing protocols for chemotherapy patients. "I feel like my contributions are heard and honoured," he shares. "And it's also been a good learning experience for me. I'm learning as I go and that helps me make a more valuable contribution."
Rafiq adds, "As patient advisors, we are the voice of patients, and we can partner with health care providers to bring down barriers and obstacles to promote optimal care experiences and desired outcomes."
outcomes." If you are interested to learn more or want to apply to become a patient advisor, please contact patient.engagement@fraserhealth.ca.