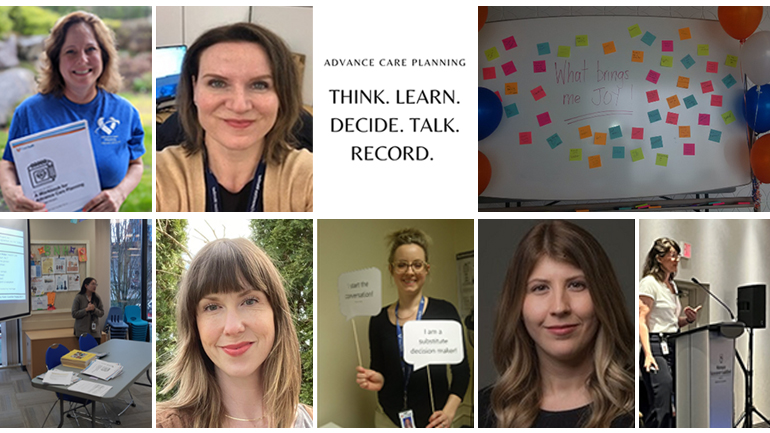 Fraser Health's Advance Care Planning team assists patients and their families in planning meaningful conversations about their future health care goals.
Sherry Faubert, social worker, Advance Care Planning, sees how, all too often, people forget about their health care when planning for the future.
"It's so important for people to start planning for their health care early, before a health crisis," she says. "The first step can be the hardest, many people aren't sure how to start, so our Advance Care Planning team is here to help."
Just this past year, she and the Advance Care Planning team facilitated over 30 public sessions, mailed out over 2,600 resources and provided over 20 workshops with health care providers. The team also worked with various health care teams across different settings like acute care and Home Health have rich conversations with families and health care providers about their values, wishes and goals for the future of their health care.
Sherry and team emphasize that planning in advance for your care can be done at any age or stage of your life and health care journey. The first step is reflection. And then identifying what your values are.
"What does a good day look like for you? What brings your life joy and meaning? It can be overwhelming at first to consider these key questions, but they serve as an important stepping stone to inform a future treatment plan," says Laura Gaspard, social worker.
As a nurse, Nicole Percival has witnessed firsthand the impact of an advance care plan – for a patient, their family and caregivers facing difficult health care decisions.
"Complex health care decisions can be personal and are influenced by a person's beliefs. Advance care planning allows families and care providers to honour an individual's wishes during a health care crisis," says Laura.
While it may be difficult to initiate these conversations with family, friends and others who matter to us, the team has created resources like workbooks and conversations tips to help get people started.
"Serious illness can happen at any age," says Lauren Thomas, nurse. "If you are faced with a health care emergency, it can be difficult to make life altering decisions in the moment. Having a comprehensive plan in place ahead of time is a gift."
To learn more about advance care planning visit fraserhealth.ca/acp.