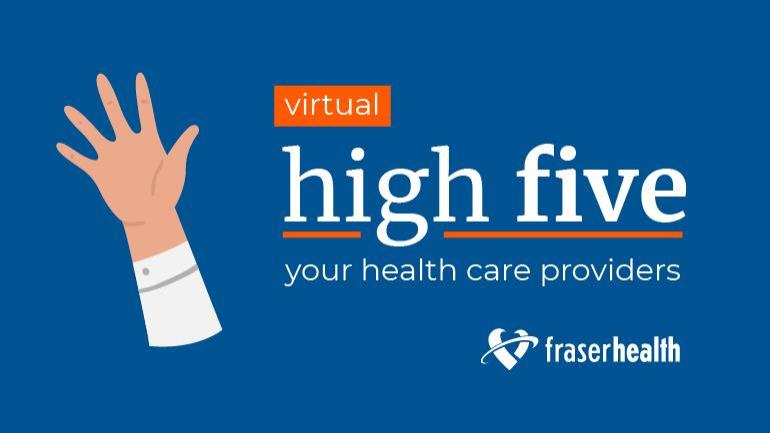 This week's high fives go to our amazing people at Abbotsford Regional Hospital, Chilliwack General Hospital, Delta Hospital, Peace Arch Hospital and Royal Columbian Hospital.
Want to send a high five to your health care provider or Fraser Health team member? Leave a comment below or send your thanks using our online submission form. Read more kudos at fraserhealth.ca/highfive.
---
For Abbotsford Regional Hospital
I love the piano playing in the atrium, it's so uplifting and relaxing. I frequent the hospital for bloodwork and enjoy hearing it every chance I get. Thank you again, it's so lovely.
---
For Chilliwack General Hospital
I recently visited the Emergency Department with my son, who had a severe allergic reaction. Upon entering, the friendly and polite staff promptly tended to us. Thanks for the positive experience.
---
For Delta Hospital
Thank you to the nurse who showed me great kindness during a stressful event. While performing my blood work she held my hand and gave me a big hug after. Her kindness and reassurance made all the difference; she was incredible. Thank you from the bottom of my heart.
---
For Peace Arch Hospital
The staff in the Maternity Unit at Peace Arch Hospital went above and beyond with their care during my stay. Thank you to Nurses Jackie, Danielle, Nancy, Theresa, Eniko, Sharn, Charmela, Amanda and Sherri for their hospitality and professionalism. I appreciated how they ensured we were comfortable and providing lots of support during our visit. Thank you.
---
For Royal Columbian Hospital
Thank you to Dr. Byron and Dr. Gunning for being patient and kind during my stay at the hospital. They were great at explaining every step of my medical procedure and answered all my questions. They are wonderful, knowledgeable doctors.
---
I want to offer my sincere compliments to the Emergency Department staff. They were professional, friendly and treated me with care and respect. The doctors worked well together to finally resolve my medical concern. Thank you, kudos to everyone.
---
I wish to compliment and thank Nurse Ashley. She was friendly, gentle and gave me positive encouragement. I appreciate her and all the staff who have helped me. Thank you.
---
Kudos to the great staff at Royal Columbian [Hospital]. All were kind, pleasant, knowledgeable and great at explaining the medical procedure and outcome. I appreciate that they were pleasant and took the time to answer my questions. Thank you.
---