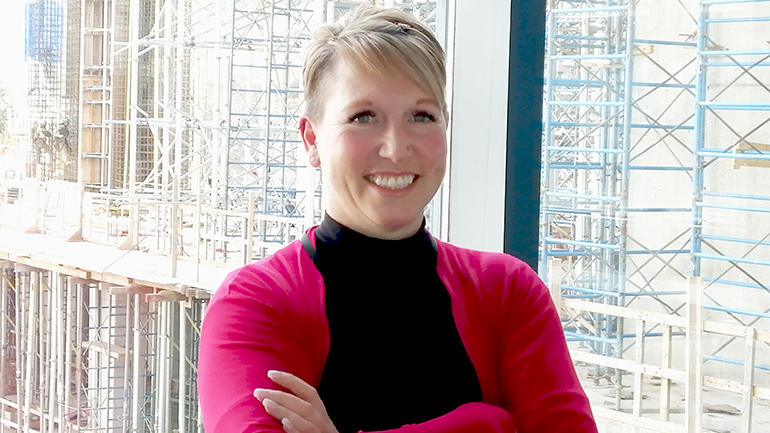 Family-friendly features are being built into the new Jim Pattison Acute Care Tower at Royal Columbian Hospital to foster patient and family-centred care.
Family members and loved ones play an important role in patients' care journeys. Evidence shows that having family members present and involved in their loved one's stay in hospital can reduce a patient's stress and promote healing. This is why the new Jim Pattison Acute Care Tower at Royal Columbian Hospital is being built with not only patients, but also their families in mind.
The majority of the patient rooms in the tower will be private and all will have a 'family zone'− an area dedicated for family members. This area will have a pull-out couch or sleeper chair and a table. Having a comfortable space for family members will make it possible for them to spend more time at the hospital and be actively involved in caring for the patient.
More space for families will be especially welcome in the labour and delivery area. Spacious, private rooms for labour and delivery and the post-partum period will help families bond and connect with their newborn. All 24 rooms in the Neonatal Intensive Care Unit (NICU) will be private, allowing family members to stay in the same room and have an opportunity to practice caring for their newborn with support from the care team nearby.
Staff will also deliver care in ways that will support stronger connections with patients and family members. New technology will bring 'workstations on wheels' to the patient rooms so that health care providers will be closer to patients and families than they are at traditional nursing stations.
The close proximity will help families build relationships with all members of the care team. Team members from different health care disciplines will work collaboratively with patients and family members to create the patient's care plan.
"Families will become a more integrated part of the patient's care because we're inviting them to partner with us in the care of their loved one," says Kim Warwick, clinical operations lead for the Royal Columbian Hospital redevelopment project. "Families can see what the nurses are doing and learn about the needs of their loved one and how they can care for them at home."
"This environment is going to help medical staff, staff, family members and the patient to work together," says Kim.
To ensure the new tower meets the needs of patients and families, the project has a dedicated Patient and Family Advisory Council. The council members meet every few months to share their views on a variety of topics like interior design and wayfinding signage. Patient and family advisors also provided input during the full-scale design mock-ups held in summer 2021. Find out how to become a patient and family advisor for Fraser Health on our website.
Visit fraserhealth.ca/royalcolumbian to learn more about the redevelopment project.