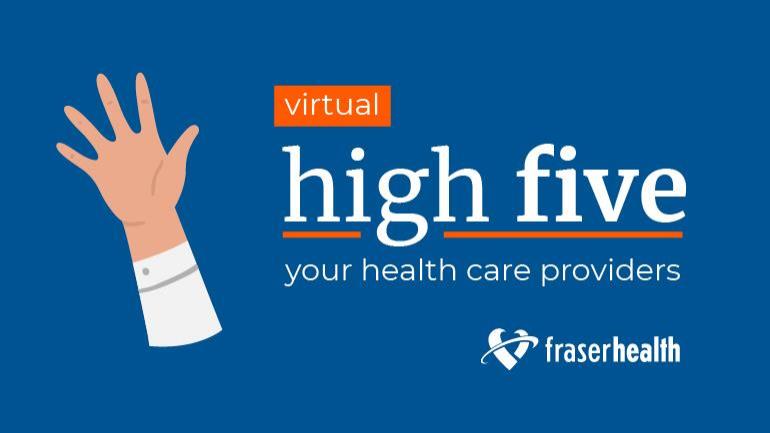 This week's high fives go to our amazing people at Abbotsford Regional Hospital, Burnaby Hospital, Chilliwack General Hospital, Eagle Ridge Hospital, Langley Memorial Hospital, Peach Arch Hospital, Royal Columbian Hospital and Surrey Memorial Hospital.
Want to send a high five to your health care provider or Fraser Health team member? Leave a comment below or send your thanks using our online submission form. Read more kudos at fraserhealth.ca/highfive.
---
For Abbotsford Regional Hospital
I have been receiving Speech and Occupational Outpatient Therapy at the hospital for three months. It has helped immensely in getting over a series of strokes I had. All of the therapists are great; you have an excellent program. Thank you to everyone for the help you have provided me.
---
For Burnaby Hospital
I just wanted to say thank you to the staff in the Neonatal Intensive Care Unit (NICU). My granddaughter was transferred from Royal Columbian Hospital and the care was exemplary.
---
For Chilliwack General Hospital
From the time I entered the Emergency Room through my surgery, the Chilliwack team was fantastic. A special shout out to Lindsay and Titi who prepped me for surgery, and Dr. Robles as well as the whole surgery team, they were great. My post-operative nurses were also so kind and caring.
---
For Eagle Ridge Hospital
I visited the hospital for an ultrasound and was cared for by the very professional and personable Ashley in the Medical Imaging Department. When I got to the hospital I realized I did not have the correct amount to pay for parking, however, the lovely women at the front desk gave me the extra money I needed. Thank you to the staff at Eagle Ridge Hospital, you made my visit a great one.
---
For Langley Memorial Hospital
The team within the MRI unit were so incredibly kind and patient. They explained everything before the procedure, checked in with me during the process several times, and followed up after the MRI was done to make sure that I was feeling well. The facilities were so clean and welcoming. Thank you.
---
For Peace Arch Hospital
I received wonderful care at the hospital. From the friendly admissions staff, to Dr. Loh, to the nurse who supported me during my CT scan and everyone in between. Thank you for your care.
---
For Royal Columbian Hospital
I recently had an ultrasound with Nicki. She was so kind and friendly, made me feel extremely comfortable and well taken care of. My pregnancy has been quite stressful, with many complications, but she took care to make me feel comfortable and ensure that my experience was as good as it could be. Thank you Nicki.
---
I just wanted to thank the staff in the Neonatal Intensive Care Unit (NICU) for the excellent care of my grandchild.
---
When I visited the hospital I had a nurse named Brittany, and she was great. All of the nurses were pretty great, but I just wanted to offer my commendations to her in particular as she was particularly attentive. Thanks.
---
For Surrey Memorial Hospital
We arrived at pediatric emergency with my son who was having difficulty breathing. The triage staff had us checked in and into a room quickly. Nurse Bailey and colleagues were amazing, caring and compassionate. Dr. Cristian his colleagues provided excellent care. Thank you to team at Surrey Memorial Hospital.
---