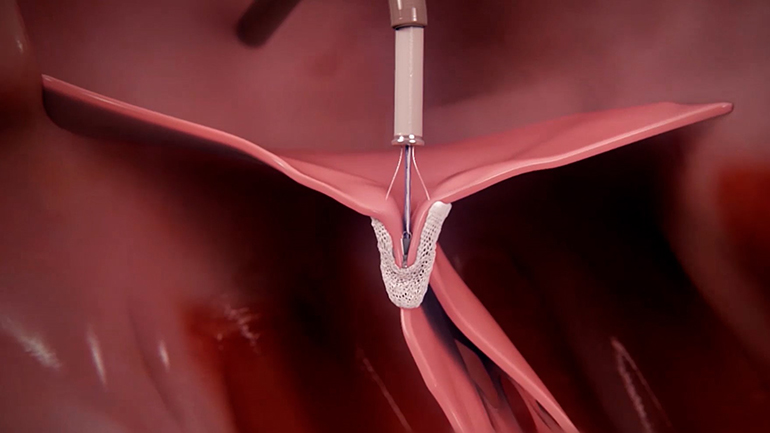 February is heart month—a good time to think about reducing our risk of cardiovascular disease.
Lifestyle factors play a significant role in cardiovascular health, but for some people, biology and genetics predispose them to life-threatening heart conditions.
More than 6,000 people are admitted to Fraser Health hospitals for cardiac failure every year and many of them need surgery. With an aging population and increased frailty, less invasive procedures that alleviate the need for open surgery are benefitting patients in the region.
Royal Columbian Hospital is the second hospital in B.C. to perform Transcatheter Edge-to-Edge Repair (TEER), a lifesaving procedure for patients with congestive heart failure and those with valve problems or underlying conditions for whom open-heart surgery is not an option.
TEER involves inserting a wire inside a plastic tube through the femoral vein in the thigh, and clipping the edges of the mitral valve together with a device that looks like a high-tech paperclip. The device repairs the valve and prevents blood from flowing back into the heart. The procedure takes about three hours and is performed in the cardiac catheterization lab.
"TEER is another tool to treat patients who may not have other options," says Dr. Razi Khan, interventional cardiologist and leader of the TEER program at Royal Columbian Hospital. "Less invasive procedures like TEER help patients recover faster and with fewer complications than traditional open heart surgery."
TEER also helps preserve a patient's natural valves and reduces the need for lifelong anticoagulant medicine and repeat valve surgery.
To date, 24 patients have benefited from TEER at Royal Columbian Hospital.
"The TEER program at Royal Columbian Hospital is an example of how more patients are seeing the benefits of enhanced specialized cardiac diagnostic and treatment procedures in this province," says Dr. Jamil Bashir, medical director of Cardiac Services BC, a program of the Provincial Health Services Authority that oversees and funds coordination of specialized cardiac care in B.C. "We are excited about the addition of another site capable of performing TEER in the province as this helps bring care closer to home and will improve access for patients in Fraser Health."
Learn more about heart failure: https://www.fraserhealth.ca/health-topics-a-to-z/heart-health/heart-disease/heart-failure.