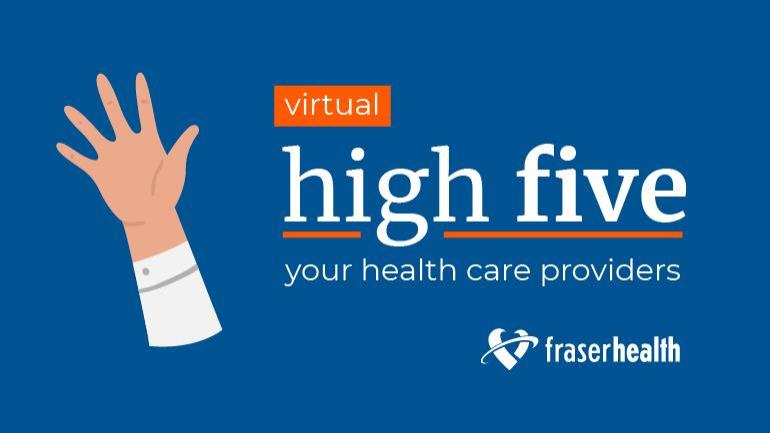 This week's high fives go to our amazing people at Abbotsford Regional Hospital, Burnaby Home Health, Burnaby Hospital, Delta Hospital, Eagle Ridge Hospital, Langley Memorial Hospital, Ridge Meadows Hospital and Royal Columbian Hospital.
Want to send a high five to your health care provider or Fraser Health team member? Leave a comment below or send your thanks using our online submission form. Read more kudos at fraserhealth.ca/highfive.
---
For Abbotsford Regional Hospital
Thank you to all the doctors, nurses and hospital staff for your awesome care. Although it was busy, I felt listened to and well cared for.
---
For Burnaby Home Health
Thank you to Chronic Wound Nurses Chelsea and Rachel, who went above and beyond to tend to my fathers health care needs. From the first meeting to the last visit, my Dad received the most compassionate treatment, full of kindness, generosity and respect. Although words are insufficient to reflect the level of genuine appreciation we carry towards the Fraser Health Home Care Community, we hope that this communicates the level of thankfulness we wish to convey. Their care resulted in the complete healing of my fathers chronic wound. Thank you Chelsea and Rachel, you are held in high esteem.
---
For Burnaby Hospital
I would like to commend a nursing aid who was assisting in the Emergency Department. I didn't get her name, but I was impressed with her ability to keep calm under pressure while maintaining a professional, polite and kind attitude to everyone. She made my overall experience much better.
---
For Delta Hospital
During my recent visit to Delta Hospital, I received excellent care from the consistently positive, attentive and caring staff, especially Nurse Shubhreet. I am grateful for the quality of care I received. Thank you.
---
For Eagle Ridge Hospital
High fives to Robert and Nathan who treated me with the utmost kindness and respect. Thank you for your care.
---
For Langley Memorial Hospital
Nurses Noreen, Lorraine, Malia and Brenda are beyond amazing. They went above and beyond while providing an immense amount of compassion for all of their patients. I had a great experience with them. Thank you.
---
For Ridge Meadows Hospital
The staff in the Intensive Care Unit (ICU) were excellent and deserve kudos. Thank you for providing exceptional care.
---
I recently visited the Emergency Department for a foot injury. Throughout my visit I was treated with cheerfulness, kindness and professionalism by all the staff I encountered. Thank you for working so hard with the best attitudes.
---
For Royal Columbian Hospital
Thank you to the staff in Emergency Department at Royal Columbian [Hospital] for their care under impossible conditions. They smiled and accommodated myself and others with ease and grace. Thank you so much.
---